Nitro Core 24 Review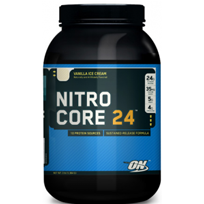 Nitro Core 24 is a protein powder that mixes a comprehensive blend of protein sources.
Its multifaceted blend functions to deliver protein quickly, intermediately, and slowly so you get the full muscle-building benefits of Nitro Core 24's ingredients.
With the body only able to absorb and use so much protein at a time, sustained delivery systems are a great feature to have in a product. Some supplements still get it wrong though.
Is Nitro Core 24 one of them? That's what we wanted to find out.
About Nitro Core 24
The best part about Nitro Core 24 is the fact that it contains 10 different forms of protein to make sure you get the most all inclusive experience possible.
Nitro Core 24 offers immediate protein supply to jump start muscle building using ingredients like Cross-Flow Microfiltered Whey Protein Isolate, Hydrolyzed Whey Peptides, Ion-Exchange Whey Protein Isolate, Unfiltered Whey Protein Concentrate, and Glutamine Peptides.
Nitro Core 24's intermediate protein source is supplied by Milk Protein Isolate, Egg Albumen, and Ultrafiltered Milk Protein Concentrate. Finally, Nitro Core 24 offers slow-digesting casein compounds to help grant your body access to prolonged influxes of protein that can keep building muscles for hour after your workout has ended.
Will Nitro Core 24 Really Work?
Nitro Core 24 doesn't really have any unique add-ons or secondary ingredients that help the primary protein blend perform that much better. But even without that, Nitro Core 24 still performs very well.
The Price
Nitro Core 24 is available on optimum nutrition's home site , and you can currently purchase a 3 lb bottle for about $52.99 This is not a steal of price but it's a fair one for how long Nitro Core 24 can provide muscle growth.
Oddly enough, this formula has been discontinued from more popular supplement sites such as Bodybuilding.com, so you'll have to take it directly from the manufacturers rather than shopping around for the best deal.
The Taste
Nitro Core 24 doesn't branch out with new and unusual flavors like other protein powders. Instead, it sticks to the typical 2 flavors: ultimate chocolate and vanilla ice cream. Consumers said the taste was tolerable, as far as protein powders go, but considering that it's a fairly effective protein, it might be worth the effort to chug it down anyway.
Potential Side Effects
Like so many other protein supplements and shakes on the market, Nitro Core 24 comes with the typical side effects: bloating, cramping, gas, and indigestion. This could be because it uses varying sizes of protein from different sources (some of which are not high-quality) and they are difficult to absorb and digest. If you're struggling with these side effects, you might want to consider using a more pure form of protein such as 100% whey protein isolate or casein protein.
Conclusion
With a stellar blend of protein types, Nitro Core 24 is extremely well-equipped to ignite exceptional muscle growth. It's solid product at a decent price. In all, we don't think you can't go too wrong trying this product. Consumer reviews are positive, and though it's not necessarily the purest source of protein on the market, it can still give you the results you're looking for.