Myotein Review
Myotein is a protein powder developed by XPI Supplements that has been claimed to be one of the top-rated protein powders on available.
If you are like me, I'm just at the point where I expect a lot from a protein powder and skeptical with the claims they all make. It seems like companies have all the research and information they need to create a quality protein powder, but so many companies still skimp on ingredients and it just ends up frustrating users. Due to the cost of raw ingredients, it is no wonder why companies can be so likely to deceive.
In this review, I hope I can help you decide if Myotein is a good choice when it comes to selecting a protein powder that works, if Myotein tastes the way you want your protein powder to taste and if you're really getting a good value overall by purchasing Myotein.
Click here to learn more about Myotein on XPISupplements.com
First Impression of Myotein
Before I ever tried Myotein, I had a lot of high expectations and that's because of the way the industry has evolved to match new studies and the reviews I've seen we're very promising.
While my expectations were still tempered (because even with all the great comments, nothing works the same for everyone), I still had high hopes for one of XPI's latest products. So let's take a look and find out the truth about Myotein.
There are now two flavors available, vanilla and chocolate. I was able to get my hands on the vanilla flavor (just recently released) and the chocolate flavor. Since I prefer vanilla over chocolate, I gave it a try first after a recent workout. I mixed it in a little Magic Bullet blender for about 30 seconds. Myotein mixed up smooth and actually tasted pretty good. Next I tried the chocolate flavor and that was even better.
I know the taste isn't the main reason you want to take protein, but it's important to have a protein powder that tastes good to me because I have to use it at least twice a day. And Myotein definitely passed the taste test. The chocolate was one of the best flavored proteins I ever had.
But really a protein powder doesn't matter if the formula isn't solid, so let's look at what you'll actually get in Myotein.
Digging Deeper into the Myotein Formula
You'll notice one of the very first selling points when it comes to Myotein is the Time-Released Formula that's supposed to be in here. Well that's something I've seen makers say before too. But in many cases the ingredients just don't add up to actually being time released.
It's pretty easy to determine if a protein powder actually has a time relased formula because different proteins can be absorbed at different intervals. So with the variety of proteins in Myotein, you know you're going to get the benefits of the different proteins throughout the day.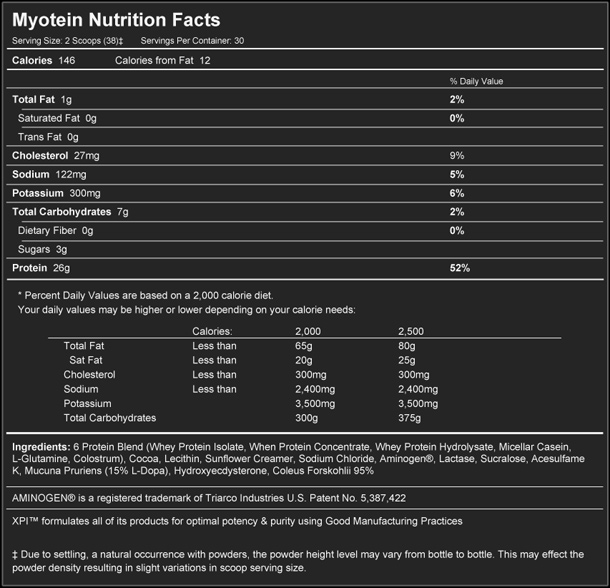 Myotein does use a variety of proteins — 6 in fact — but let's look at each one and see if you're really going to get the benefits of a time-released protein formula. Here's a list of the different proteins you'll get in Myotein:
Whey Protein Hydrolysate is pre-digested to help your body absorb it faster. Because it absorbs so quickly, it is a great protein for pre-workout priming and post-workout recovery.
Whey Protein Concentrate is considered one of the most efficient forms of protein available. Whey protein concentrate is a combination of amino acids and branched chain amino acids (BCAAs). These amino acids are the building blocks of muscle-building protein. Whey protein concentrate is also a fast and easily absorbed protein.
Whey Protein Isolate is the purest form of protein (90% protein per gram) and another form of whey protein that's absorbed rapidly by the body. It helps burn fat, normalize blood sugar, and build muscle. Your body absorbs this protein more readily than other types.
Micellar Casein digests slowly to give you the benefits of protein long after you've used this form of protein, giving you a constant release of energy and nutrients that prevent catabolism and promote repair. The effects of this protein last longer than others which makes it great to speed the recovery process.
L-Glutamine is depleted during exercise and needs to be replenished; otherwise muscles start to break down. It is one of the best proteins for maintaining muscle growth and reducing recovery time.
Colostrum is full of growth factors, nutrients, and antibodies. It has a higher concentration of protein than most whey proteins.
What Else is in Myotein?
Some people like to take strictly whey protein powder without any other ingredients, on the other hand, some individuals are happy to get as many other ingredients in their protein as they can. I like to think of the additional ingredients as a better way to build my strength and increase my muscle mass. Myotein does include a few other ingredients, which are added to increase the benefits and effectiveness of the protein.
Myotein also includes the following ingredients:
Aminogen – Aminogen is actually a very nice ingredient if you're looking to build muscle because it's clinically tested and patented to raise amino acids levels within the body. This process helps break down protein for more efficient absorption. By increasing the rate of absorption, you'll see fewer side effects you normally see from protein powders that are straight protein. It also helps you see results faster because your body is actually using more of the protein.
20 Hydroxyecdysdone – This naturally occurring hormone has only recently been added to supplements but has shown considerable promise in promoting both muscle growth and fat loss with a lower risk of side effects than other anabolic supplements (i.e. steroids). The great news about this ingredients is the fact that the results have shown to increase with a high-protein diet. So obviously adding it into a protein powder makes sense.
Coleus Forskohlii – If you want to burn your unwanted fat, to help you show off the muscle your adding, Coleus Forskohlii is a great addition to a protein powder. By increasing thermogenic activity, Coleus Forskohlii improves energy levels and your metabolism. It's really another nice addition to an already pretty solid formula.
Will It Really Work?
There's no question, Myotein has some of the best proteins included in it to really help you see the benefits of protein throughout the day. And at 26 grams of protein per serving (2 scoops), you should get the powerful dose your muscles need to grow, strengthen and recover faster.
According to users, Myotein works fast in two ways. First, it kicks in quickly before or after a workout to give your muscles energy and nutrients. Second, it speeds up muscle growth so you can build muscle mass and strength faster. I also like the fact that it speeds recovery time, that's awesome if you're just getting back into working out because you won't feel so sore after your workout. And it's also nice for anyone regularly working out because you know you can hit the weights harder without getting as sore and stiff.
What Do Users Say?

Most of the Myotein reviews I found were very positive. Users give it an average rating of 4.9 stars out of 5 and most of them recommend it to others. I didn't see any complaints about side effects or ineffectiveness. A handful of people didn't like the milk chocolate flavor, but most loved it.
Is Myotein Safe?
Myotein is free from stimulants, chemicals, and other potentially harmful ingredients. It should be very safe; unless you are allergic to milk.
There is a slight chance you could experience some initial "side effects" as your body adjusts to the powerful doses and ingredients in Myotein but with the addition of Aminogen, these side effects aren't frequent.
What to Know if You're interested in Buying Myotein
There are dozens of sites where you can buy Myotein including Amazon and eBay. I've found it for anywhere from $25 to $30 a bottle. You can order Myotein on the official site for $60 if you buy one 2 lb bottle, but I've noticed you can find discounted prices for UNDER $30.
The best part about ordering from the official site is the guarantee that comes with it. Basically (you can read the fine print on the site if you want), if you don't like it and you return it within 90 days, they'll give you your purchase price back. That makes ordering on Myotein.com a good choice especially if you've never tried it before and you aren't sure if you'll like it.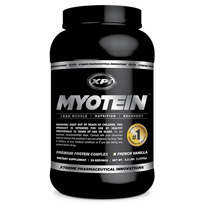 Tips for Best Results
If you want to build lean muscle mass, you'll need to hit the weights regularly whether you're taking Myotein or not. Myotein should help by speeding up muscle growth and recovery, and increasing energy. I recommend taking 2 to 4 scoops of Myotein a day. You can take it before your workout or after. Users say it mixes best with milk for a creamy consistency. I like to put it in the blender with some ice and milk and it really turns out to be delicious, even gets rid of my cravings for sugar and chocolate.
For best results, work out for about 45 minutes a day or more, 5 days a week. Most of your training should be resistance, but it's important to throw some cardio into the mix a couple times a week too.
Final Thoughts
After reviewing the research, reviews and facts, I think Myotein really does deserve to be the top protein. It is effective, safe and fast-acting; and it comes from a reputable company, which offers an excellent money back guarantee. Myotein may not have been around for years and years like some other supplements, but, surprisingly, it's my favorite protein powder and definitely utilizes the research and breakthroughs that have been made.
I've found it hard to beat the results, the taste and even the price for what you actually get. While recent prices have been slashed in half from $60 to UNDER $30! It seems like it is harder than ever to find Myotein in stock online!
If you've tried Myotein, please share your thoughts or experiences below. I'd love to hear what you have to say!