Myotein Whey Isolate Review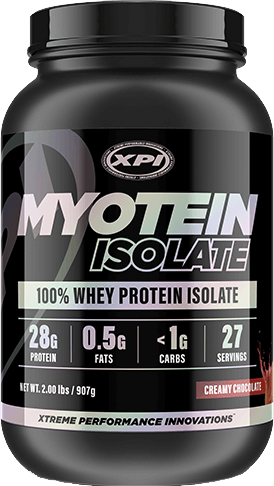 XPI has built itself an empire of top rated products in the fitness industry, but does it's Myotein Isolate stack up as well as the rest?
I personally struggle with any protein that is not an isolate, but I struggle with a lot of isolates because they aren't typically as high quality as they claim. If you are anything like me then you know this problem, and it is especially hard because each product page makes the same claims.
So how do we weed out the good from the bad? In this review I plan to go over the ingredients that make or break this isolate, and I'm going to tell you right now… It looks (and tastes) really good.
Click here to learn more about Myotein Isolate on XPISupplements.com
First Impression of Myotein Isolate
What made me look into Myotein for myself at first was the 100% Money Back Guarantee. XPI is notorious for this guarantee because it is one of the best in the market, and that also makes the company kind of brave. If you hated the product you can send it back for a full refund. This is good to know because it not only shows the customer they are willing to work with you, but that they do have complete faith in their product.
The second thing I noticed is just how dense the protein count is in this. Industry standard is between 25 and 27 grams of protein per 33-35g scoops. This is 28 grams of pure isolate protein per 33g scoop, and it only contains .5 grams of fat and less than a gram of carbs. You are getting a big bang for your buck here, regardless of anything else in the formula you will see gains purely because of this macronutrient spread.
Digging Deeper into the Myotein Formula
While Myotein Isolate does get to claim a top place in most rankings for it's formula, there are a few concerns about the claims of no fillers or sugars. This isn't anything to worry too much about, there are some fillers but those are purely to help with the taste and natural preservation of the Isolate.
Whey Protein Isolate: This is what you came here for, the isolate is the purest form of whey protein and it guarantees clean gains with little to no fats or lactose. An isolate means that you won't be dealing with major bloating or gas because it will digest faster, which leaves you to muscle gains and better recovery.
Cocoa: Cocoa provides a large majority of the flavor, but it also has some great health benefits to consider as well. Cocoa has been used for thousands of years because it is rich in flavonoids which are essential to preventing infections as well as helping with weight loss and improving overall physical response to stressors.
What Else is in Myotein?
Myotein also includes the following ingredients:
Natural and Artificial Flavors: You see these a lot in just about any non-organic product on the market, mainly they are used to enhance the natural flavors and make them easier to mix into other substances. In this case they are working to enhance the cocoa flavor to make this one of the best tasting isolates available.
Lactase: If you are still concerned, at this point, of the potential for lactose in this product (which you shouldn't be) then the inclusion of lactase ought to ease your mind. Lactase is a part of milk proteins which help with the digestion of lactose as well as helping milk products mix with other ingredients. In this case lactase is being used to help the isolate dissolve better in milk or water so you can enjoy your drink better.
Sucralose: Sucralose is an artificial sweetener, it is used in most products as a sugar replacement. The only thing to note is that it might have some of the same effects on sugar if you are sensitive or diabetic. It is worth looking into even if you are sensitive to this product, especially because you can try it risk free.
Sodium Chloride: This is your natural preservative, sodium chloride is just the chemical name for salt, as in table salt. It is the most natural form of preservation we have, and is the only thing contributing to the cholesterol count, which is actually very low.
Will It Really Work?
Yes it will work, no questions asked here. But what you have to keep in mind is what kind of gains you are looking for and why you are considering an isolate overall.
An isolate is as clean a form of protein you can get, which means you won't have to worry about stomach cramps or bloating like you would with a concentrate. But, if you are looking to use this as a meal replacement it will require that you add a little more into the recipe than just milk or water.
This should work as a great snack, something you would eat after the gym and before your next meal, this is because the isolate is metabolized extremely quickly so you won't feel so full for so long with it. Because of how quickly it is digested many people will also use it as part of their pre-workout formula, which means you need at least a half an hour before hitting the gym when you take this.
It all just depends on how you want to take it, but most of our customers are thrilled to say they see results within weeks of training while using this.
What Do Users Say?
Most users are thrilled with the product, it averages around 5 stars on every review site and is consistently recommended for long term use. It mixes excellently in whatever you put it in and is a great ingredient to add in a lot of recipes.
Probably the biggest complaint about this product is that it is too sweet, which for many is a nice change especially where so many isolates are a little bitter. But most say that if it is too much for you it mixes very well in other recipes and that it is worth dealing with the sweetness because of the results.
Is Myotein Safe?
Yes. One, there is no gluten or lactose in this product; Two, the added ingredients are all completely safe. There is nothing in this product that you couldn't take at a higher dose, so even if you take more than prescribed you can't expect any negative consequences.
One thing to note is that it is prepared in the same facility as certain milk, eggs, soybeans, wheat, shellfish, fish oil, tree nuts, and peanut butter. So if you are allergic to any of those I would recommend asking your doctor first.
What to Know if You're interested in Buying Myotein
Myotein Isolate comes in the two basic ice cream flavors, chocolate and vanilla. It also comes in 2 lb or 5 lb bottles, I personally recommend going for the 5 lb bottle, it will last you a lot longer and you are getting a great deal with it. The 5 lb comes with vita-ripped, a shaker, and shipping all free. And it all comes with a risk free 90 day guarantee, which is one of the best parts of shopping with XPI.
Tips for Best Results
The best thing you can do is make sure you are eating and exercising properly alongside taking this supplement. It is meant to give you a quality form of protein to improve your overall health. Myotein Isolate has been encouraged for use to burn fat and build lean muscle, but in order to do that it needs muscles to repair.
Aside from regular diet and exercise I recommend the vanilla with oatmeal and fruit. It is super tasty and helps you get all the essentials to get through the day.
Final Thoughts
This really is a top rated product, XPI is obviously dedicated to taste and quality. This is an excellent product that was built to help you gain muscle and recover quickly from especially difficult days at the gym. You will see progress with this product as long as you are using it correctly, which is the best thing any product can offer you.