Myoswell Review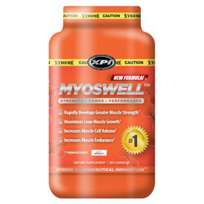 Creatine supplements are not something you simply go to the grocery store and stock up on.
If you are a serious body builder looking to get into the best shape possible, you better be doing your research and finding the right creatine supplement that is not only effective, but safe.
Myoswell is a creatine supplement that is designed to strip body fat and give you the power necessary for those intense workouts. The makers of Myoswell focus on quality, key ingredients. They claim that their highest quality formula is scientifically proven to absorb better and faster.
We're going to help you determine the effectiveness and safety of Myoswell by breaking down the active ingredients.
Myoswell Ingredients
Myoswell contains 6 major, active ingredients that are designed to give you the best possible results.
Kre-Alkalyn Creatine
Kre-Alkalyn Creatine is a patented ingredient that is used in a few creatine supplements including Myoswell. It is a higher quality than your average creatine and eliminates the need for loading and the risk of bloating.
Arginine Ethyl Ester
Unlike your average Arginine that aids in the production of nitric oxide, Arginine Ethyl Ester has been shown to help with absorption. So you are not only getting an ingredient that has been shown to facilitate blood flow, but can also get nutrients to the muscle cells quicker and more effectively.
R-ALA
R-ALA is a relatively stronger form of alpha-lipoic acid, an antioxidant that is essential for cell function. It aids in the synthesis of energy from glucose and channels that energy to muscle cells rather than fat cells.
Cinnamon
Cinnamon has been shown to reduce body fat and increase lean muscle gain. It can also speed up the metabolism and suppress appetite.
Arginine AKG
Similar to Arginine Ethyl Ester, this chemical helps to produce nitric oxide which widens blood vessels and increases blood flow, getting essential nutrients to the muscles quicker.
Chromium
Chromium is an essential mineral that regulates the use of insulin in the body. It has been shown to help with fat reduction and increase lean muscle.
Pros
-The use of proven and quality ingredients is a huge plus when it comes to Myoswell as a creatine supplement. The official website of Myoswell shows results that prove these high quality ingredients are safe and effective.
-One container of Myoswell can last up to one month when taken as directed. The cost of one bottle is $49.95 which is a pretty average price when talking about creatine supplements.
-The best part about Myoswell is the 100% money-back guarantee. If you don't like the product within 60 days, you can return it for a full refund. We don't think you'll be returning Myoswell, but the fact that the makers stand behind their product is a good sign.
Cons
-Because Myoswell uses the highest quality ingredients like Kre-Alkalyn Creatine, there is little to no risk of any major side effects. Some common reported side effects are minor and include cramping and nausea.
Conclusion
If you are looking for one of the safest and most effective creatine supplements that utilizes the highest quality, proven ingredients then look no further. We recommend MyoSwell over any current creatine supplement on the market today, hands down.