Myoplex RTD Review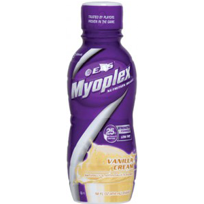 MyoPlex RTD is the ready-to-drink formula in low-calorie liquid form.
Manufacturers would have you believe that with MyoPlex RTD, you could finally take control of your own body, helping you to eliminate those constant cravings for food by giving you all the nutrition your body needs to perform at its best.
Supposedly MyoPlex RTD offers more high quality protein than ever before, and apparently, it will far exceed all expectations.
But does MyoPlex RTD actually work? Does MyoPlex RTD actually have any of the ingredients or anything else that you should actually be looking for?
About Myoplex RTD
MyoPlex RTD is convenient. You get individual cartons of this drink already mixed and ready for you whenever you need it, making it the perfect snack for on-the-go people.
Myoplex offers a surprisingly high concentration of your daily vitamins, minerals, and other nutrients per serving, and for only 170 calories a carton, you won't have to worry about packing on the pounds of fat.
Unfortunately, most of the protein found in Myoplex RTD is soy protein rather than whey. While soy may seem like a good option for some, it isn't the most effective protein in the industry. Although 20 grams is a reasonable amount for a protein supplement, the low-grade protein might not give you the amazing results you were initially hoping for.
The Price
MyoPlex RTD is more expensive than the original MyoPlex formula, which is pretty much the exact same formula. The only difference is whether you have to put it in a cup and mix it yourself. Unfortunately, you are paying significantly more here for the same ingredients, as much as $49.99 for 24 (11 fl. oz) cartons when purchased from sites like Bodybuilding.com
You may get lucky and find Myoplex RTD for a much cheaper price on sites like Amazon.com, so be sure to shop around to ensure that you get the best possible price.
The Flavor
MyoPlex RTD takes the cake when it comes to flavor. While many other supplements are chalky or gritty and don't mix well with water, this pre-mixed formula is available in delicious flavors such as chocolate fudge, cookies and Cream, French vanilla, and Strawberry cream. Consumers typically rate the taste 10 out of 10, and if nothing else, they buy MyoPlex RTD for the flavor.
Conclusion
If you're trying to lose weight, then Myoplex RTD is a great way to ensure you get the nutrients and protein your body needs without overdoing it on the calories. It's great if you're in a hurry and don't have time to pack a meal, and this product offers an incredible flavor. Consumer feedback is fairly positive, so it may be worth looking into.
However, if you're trying to gain muscle mass, then this protein powder falls painfully short. It lacks the quality ingredients necessary for boosting physical performance, and considering the high price, you'd probably be better off investing in a more reliable protein supplement. Try to look for a formula that has whey protein or milk protein in higher concentrations per serving.