MyoBuild Review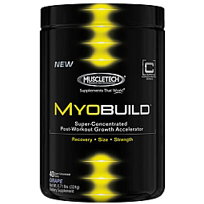 Created by Muscletech, MyoBuild is said to be the most powerful post-workout growth accelerator in existence. Manufacturers would have you believe that their super-concentrated formula is strong enough to help you make the most your downtime, so you can build even more muscle in between workout sessions.
Muscletech is one of the most reliable manufacturers in the industry, and naturally consumers flock to this popular formula in order to suppress cortisol levels and amplify muscle gains and strength. However, I can't help but wonder, is MyoBuild really as cracked up as everyone thinks it is?
Let's take a closer look at MyoBuild to see if the pros outweigh the cons.
The Pros
The secret to success of any supplement lies in clinically proven ingredients, and MyoBuild definitely stands head and shoulders above the crowd when it comes this aspect. Each and every one of the ingredients found in this formula has been clinically tested and proven to produce results, and they are also found in the correctly concentrated amounts.
To repair tissue and improve recovery time after a hard workout, you'll find a massive 2000mg dose of L-Carnitine and 5300 mg of Glutamine & BCAAs Both of these ingredients will stimulate muscle growth and improve overall physical performance.
Additionally, you can also experience improved endurance, increased gains and strength with the inclusion of Betaine 2500 mg and Creatine Hydrochloride3000 mg .
Cortisol is one of the worst things in the body for muscle gains. Cortisol destroys your hard work by breaking down muscles to use for energy. With the use of Withania Somnifera 250 mg, MyoBuild can significantly lower cortisol and since it throws in Rhodiola 100 mg as well, you may experience less stress and improved mental clarity.
Additionally, there are literally hundreds of consumers that feel that MyoBuild can produce the promised muscle building results and rank it highly. The majority of these consumers would also suggest this protein powder to a friend.
These users suggest that both flavors, grape and fruit punch, are delicious and can give you the results you're looking for while providing a more flavorful alternative to the tasteless and chalky protein powders that are usually found on the market today.
There are no side-effects reported with the use of this product which can be considered an additional benefit.
The Cons
There are a few drawbacks that you may want to consider before jumping all into this product. First, MyoBuild is manufactured in the same building that also produces milk, soy, egg, wheat, peanut and tree nut ingredients. This means that there may be traces of these products in this formula, so if you are highly sensitive to these ingredients, we'd recommend choosing something else.
The retail price of this product is $59, however we have found it for as little as $42 on various online stores. According to the product website the purchase of MyoBuild comes with a satisfaction guarantee.
Our Impression
We like MyoBuild and would recommend it as a stand-alone or stacking product if you have the money to spend on it. We feel that it can offer the benefits it promises and suggest giving it a try. Although it's not one of the top products on the market, it's definitely one of the better ones, so you won't be disappointed.