MuscleTech Phase8 Review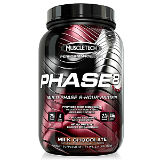 Buying protein powder supplements can be confusing with so much research regarding different types of protein. Should you buy concentrate or isolate, milk or plant protein? MuscleTech Phase8 attempts to make your choice easier by combining six necessary proteins in one powder.
Can one powder be everything you need? Let's dig a little deeper into the MuscleTech Phase8 formula.
A Look At Ingredients
The MuscleTech Phase8 formula is not just like every other protein powder.
Hydrolyzed Whey Protein Isolate: Whey protein comes from milk. It is broken down into peptides, which makes it easier to digest. Hydrolyzed whey is gentle enough that many people with lactose allergies can handle it, though it isn't meant for those with severe allergies. Hydrolyzed whey protein has the most usable protein for muscles.
Whey Protein Isolate: Whey isolate has less usable protein than hydrolyzed, but more than its concentrate counterpart. It is 90% or more pure protein with fat and sugar removed from the milk.
Whey Protein Concentrate: With 89% or less pure protein, whey concentrate is the cheapest and most common type of whey protein. It has more lactose and calories left in it than other whey proteins. Whey concentrate acts quickly and is easy to digest, and is thus most recommended for use right after exercise.
Milk Protein Concentrate: Milk protein concentrate contains 40-90% pure milk protein. It contains lactalbumin and casein, making it a complete milk protein.
Calcium Caseinate: Caseinate breakdown takes longer than other forms of protein, so it feeds muscles over an extended period of time. Healthy amino acids are released slower, making you feel full longer. Many people use caseinate at night so the proteins can help rebuild muscles while you sleep.
Micellar Casein: Casein slows digestion by forming a gel in the stomach. Casein is often used at night because it works slowly, replenishing muscles while you sleep. Most of the fat, calories, and carbs are taken out of casein.
When Should You Take MuscleTech Phase8?
Protein powders like MuscleTech Phase8 are pretty simple to use. It can really be taken at any time of day, depending on what you are using it for.
To build muscle, MuscleTech Phase8 is best taken within 30 minutes after a workout. For a meal replacement or appetite control, it is best used at breakfast, lunch, or in the afternoon.
The recommended dose is two to four scoops (servings) daily. Many users replace one meal like breakfast and drink a MuscleTech Phase8 shake after an intense workout too.
Depending on how much you use, one canister will last a month or two.
Is MuscleTech a Company You Can Trust?
Phase8 is manufactured by MuscleTech, a supplement company that is rapidly gaining popularity. They offer supplements in three categories: performance series, concentrated series, and hardcore pro series. Phase8 falls under performance series.
What Flavors Does It Come In?
Unlike most protein powders, MuscleTech Phase8 comes in three flavors.
• Milk chocolate
• Strawberry
• Vanilla
Most users are surprised at how tasty the vanilla is. They also say the chocolate is consistently good, but for those sick of chocolate protein shakes, strawberry or vanilla are both good options.
Reviews from Real Customers
MuscleTech Phase8 users on Bodybuilding.com have a lot to say about this protein powder. With an overall rating of 9.6 out of 10, it is difficult to find a bad review for this powder.
User dbaugh0720 says, "This is a great post-workout and before bedtime shake."
User Arogant says, "This is by far the best tasting protein powder I have ever tried…If you are looking for a great slow release protein, this is it. If you're looking for a great anytime shake, this is it."
User adam10191 writes, "I've never felt so refreshed post-workout as I do with this protein. I wake up the next day feeling ready to train hard again and feel as though my muscles have been restored & fully recovered."
Another user named J341988 says, "This product is great for someone who is trying to stay toned and sculpted and not trying to bulk up."
Koweanguy writes, "As expected from a very high quality company, the ingredients of Phase 8 are perfect for anyone bulking or leaning down!"
Why You May Like MuscleTech Phase8
• 26 grams of protein
• No sugar
• Low carbs – 7 grams
• Low calorie – 150
• 6 types of protein
• Reputable company
• Affordable
Some Disadvantages
The major con for most users is that while the six types of protein are listed, the amount of each protein is not listed. Unlisted ingredient amounts are common in protein powders. But it does make it difficult to compare effectiveness to clinical studies.
Also, the protein sources in Phase 8 are far from sophisticated. There are no ingredients that are designed to remain in your digestive system longer. Since your body can only digest so much protein at once, much of Phase 8's protein could pass through your system undigested.
How Much Does MuscleTech Phase8 Cost?
This is a fairly affordable protein powder, compared to some others. It comes in two and four-pound canisters.
2 Pound Canister
• GNC.com: $29.99
• Amazon.com: $34.68
• Bodybuilding.com: $29.97
4 Pound Canister
• Netrition.com: $52.99
• GNC.com: $59.99
Is MuscleTech Phase8 For You?
MuscleTech Phase8 is a good option for anyone who is looking for a basic protein powder. However, MuscleTech Phase 8 is not groundbreaking by any means. If you are looking for something with more cutting edge, we recommend looking elsewhere.