Muscle Therapy Gel with Arnica Review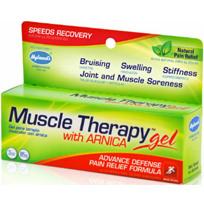 Hyland's Muscle Therapy Gel with Arnica, which utilizes natural ingredients in order to help relieve stress on muscles and joints after working out or even after an injury, can help those that are recovering from workouts. Working out can release a lot of stress, increase endorphins, and have untold health benefits, but it can also have some detrimental effects.
It is, of course, important that muscles break down so that they can be built up even more as time goes on, but that break down can release acids that create soreness, fatigue, and pain. Hyland's Muscle Therapy Gel with Arnica utilizes natural ingredients to help relieve the pain that can be felt while recovering from workouts.
Why Does Hyland's Use Natural Ingredients?
Unlike prescription or over the counter pain relievers, Hyland's Muscle Therapy Gel with Arnica uses natural ingredients to help temporarily relieve pain. These ingredients include Arnica (which has also been called the "first natural remedy for swelling, bruising and trauma"), Hyperpicum Perforatum, and Bellis Perennis.
All of these ingredients, as well as the rest of the ingredients in Hyland's Muscle Therapy Gel, are used to decrease soreness, fatigue, help ease the pain of sprains or weakness in limbs, and reduce swelling. These are meant to help those that have either found themselves unable to move without pain after a workout or have injured themselves.
Pros
Hyland's utilizes natural ingredients in order to help avoid the side effects that can come from popping pain relievers. Also, Hyland's can be used topically in order to provide faster relief to a certain area. Through an online search, we found that Hyland's is also affordable. Often, a 3 ounce tube of gel costs as low as $5, though there are certain sites that sell packages of more tubes for a little higher price.
Another benefit of the natural ingredients used is that Hyland's Muscle Therapy Gel with Arnica has no health or safety warnings or issues. This means that the gel can be safely and frequently used.
Cons
Though a majority of the consumer reviews said that the gel worked well, the consistency of the gel was a little runny, which caused problems. Some found that they had squirted out far more than they needed and had to let some go to waste. This can make Hyland's Muscle Therapy Gel a little less usable on the go.
Also, there are not many clinical reviews of Hyland's Gel, though the few that mentioned Hyland's Gel were positive overall. There is also the matter of this Muscle Therapy Gel being a temporary relief, which can make the low cost of this gel add up if applied too frequently.
Overall Value
Hyland's Muscle Therapy Gel with Arnica does help to temporarily relieve pain, soreness, swelling, and weakness in limbs and joints. Through the ingredients used, it is safer to use than many other types of pain relievers. Also, it is affordable and travel size, though the runnier consistency of gel may cause application problems. We would recommend Hyland's Muscle Therapy Gel with Arnica for those that need instant relief from soreness or pain from injury as long as there is not a need for continual use.