Muscle Juice Revolution 2600 Review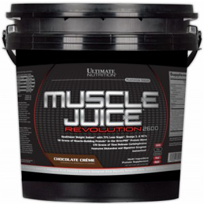 Strawberries, bananas, chocolate, cookies and cream and even vanilla are all flavors that will easily make a delicious shake. However, the typical shake you may be thinking of would include ice cream and lots of fat and sugar. This kind of shake will not help you the muscle gains and fat burning you are looking for.
Unfortunately, the majority of protein shakes that can actually give you the health and nutrition you are searching for taste gritty or like something that has been sitting inside a cardboard box for a little too long.
Do you know anyone who would just love to mix themselves a bland tasting, gritty supplement shake before or after every workout? It is highly doubtful that this is the case, which is why so many protein shake supplements that have flavor added don't do well on the shelves.
However, Muscle Juice Revolution 2600 claims to have protein powders in the flavors listed above that actually taste like something you'd enjoy using every day while giving you the gains you've been aiming for. Let's take a closer look and see if Muscle Juice Revolution 2600 can deliver these promises to you without completely breaking the bank.
What Does Muscle Juice Revolution 2600 Do?
Muscle Juice Revolution 2600 claims to work by proving your muscles with the strength and nutrition they need for proper building and maintenance. It is formulated in such a way that muscle building carbohydrates and proteins are released at increments throughout the day to provide your muscles with constant support.
What Does Muscle Juice Revolution 2600 Have Going For It?
Muscle Juice Revolution 2600 contains natural vitamins and minerals for the most healthy safe muscle building solution. These powerful natural ingredients are:
• Calcium
• Iron
• Carbohydrates
• Amino Acids
• Proteins
• Glutamine
• Digestive Enzymes
• Fatty Acids
This formula has been updated from the previously used Muscle Juice 2544 and because of this it contains 71% less sugar so that you won't experience the crashes that are sometimes associated with energy and muscle building supplements.
Additionally, there are various consumer reviews that talk about the effectiveness of Muscle Juice Revolution 2600. Not only do the majority of consumers absolutely love the flavors, but they say that it performs exactly as promised to create the safe and effective muscle gains.
Some users prefer to use Muscle Juice Revolution 2600 as a stacking supplement and add additional protein pills and supplements to create even greater muscle gains.
Should I Try Muscle Juice Revolution 2600?
The retail price of Muscle Juice Revolution 2600 is nearly $60 for an 11 lb. tub of protein powder. We are unsure exactly how long this tub will last, but we estimate you can get over one month's usage from it and believe that this is a good price. We are disappointed however to report that there is no satisfaction guarantee included with this product so you will be purchasing it entirely at your own risk.
It seems that Muscle Juice Revolution 2600 has the ability to produce results, and we would recommend giving it a try.