Muscle Armor + Revigor Review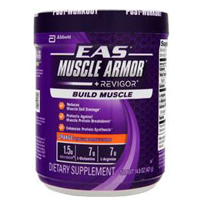 Are you fed up with the protein powders that taste like you've walked into a cloud of chalk or leave you feeling like you've spent the entire day putting up drywall? Not everything that is healthy or good for you has to taste awful.
Muscle Armor + Revigor claims to not only be the exception to the bad tasting protein powder rule but to also work to aid in effective building and support of muscle. Let's take a closer look at Muscle Armor + Revigor and see if it can live up to its claims.
Pros:
Muscle Armor + Revigor uses an excellent blend of clinically proven ingredients that work to build, maintain and support powerful muscle building. These ingredients are Revigor, Calcium, L-Arginine and L-Glutamine.
Calcium works to provide support against protein break down while promoting muscle mass and the amino acids L-Glutamine and L-Arginine work to boost creatine and protein synthesis to ultimately support muscle gains.
As mentioned briefly above, Muscle Armor + Revigor comes in two flavors, fruit punch and orange, instead of the chalky vanilla or chocolate flavors often used in protein shakes.
Additionally, we love that the manufacturers have performed extensive clinical trials on the ingredients in order to prove them both safe and effective for use. The results have all returned positive according to the manufacturers.
Lastly, the inexpensive online price of $15 in addition to $22 in stores offers an additional reason to consider the purchase of Muscle Armor + Revigor.
Cons:
Even though there are supposedly clinical trials for the ingredients listed in this product, we were unable to locate any of them.
Additionally, consumer reviews are usually a great way to see what other users think of the product and to get an honest opinion. However, there are no consumer reviews anywhere to be found. The good news is that there are no complaints, however, there are also no known benefits.
We spoke earlier of the inexpensive price. We would also remind you that there is no satisfaction guarantee with this product so if you decide to purchase it, you will be doing so at your own risk.
One last problem we see with Muscle Armor + Revigor are the multiple warnings on the label. We feel that it is great that the warning were included, but no side-effects or other information is available. The manufacturers caution against taking more than the daily recommended dosage.
You are strongly encouraged to consult a doctor or health care professional if you are under the age of 18, pregnant, nursing, may become pregnant or have any pre-existing medical conditions.
Our Opinion:
We believe that the negatives of this product outweigh the positives. Because we can't find any research to speak of, even though the manufacturer promises that it occurred, we have nothing to go on to decide whether or not the product will work as specified.
There are other products on the market that can provide you with proven results at a similar price and we would suggest searching elsewhere before resorting to Muscle Armor + Revigor.