Multi Pro Whey Protein Review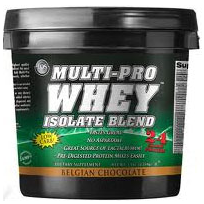 The Multi Pro Whey Protein is made by a little known company known as IDS that sells on big supplement sites such as bodybuilding.com.
But despite their ties to successful online business, IDS is still rather new to the protein-related and muscle-building industry, which makes me question if the formula is as reliable as it seems. With Multi-Pro Whey Protein, you will supposedly be able to get an aspartame free predigested protein mix that is easy and great tasting.
But does Multi-Pro Whey Protein actually work? Does Multi-Pro Whey Protein actually have what it takes to truly give you the ultimate formula for your greater benefits?
About Multi-Pro Whey Protein
Multi-Pro Whey Protein has 24g of protein, which is about right for your greater expectations. When it comes to Multi-Pro Whey Protein, the fact is that you are getting some high quality amino acids to go along with them. So obviously, it's not all bad.
Does Multi-Pro Whey Protein Really Work?
They have very low amounts of amino acids when it comes down to what would actually be needed. And ultimately, it comes down to the fact that the protein found in Multi-Pro Whey Protein is extremely low quality at best!
So obviously, Multi-Pro Whey Protein is not going to come through. With Multi-Pro Whey Protein, the fact is that their proteins cannot even properly absorb into the body.
Price
Interestingly enough, Multi-Pro Whey Protein has been discontinued from Bodybuilding.com and even though you can still find it on occasion from sites such as Amazon and ebay, the sellers are increasing the price to ridiculous amounts, selling a 5 lb tub for nearly $100. Because it's so hard to obtain Multi-Pro Protein, it might not be worth the effort to even try whether or not this product will work for you.
There is no guarantee associated with this product as well, so be prepared to give up your hard-earned income for good if the formula doesn't work for you.
The Flavors
Multi-Pro Whey Protein is available in multiple flavors, including chocolate, creamy vanilla, banana, vanilla, vanilla cinnamon, vanilla cream, and vanilla-cinnamon. Consumer feedback reports that consumers love the taste of this particular protein powder, and it mixes "thin" and "goes down smooth" unlike other protein shakes – which means that you can mix it in water without having to deal with the grit and chunks of undissolved protein.
Conclusion
When it comes to Multi-Pro Whey protein, consumers should be aware that they are getting low-quality protein that won't give you the muscle-building results you're looking for. Although there is plenty of protein per scoop, it will be difficult to digest, which means that absorption will be minimal and you may experience negative side effects. If you have the stomach for it, and don't mind searching high and low to find this discontinued product, then you might find that the taste redeems the powder from a few of its flaws.
Personally I think that you would be better off investing in a cheaper formula with higher quality protein rather than spending the extra cash on a hard-to-find product.