MPR Amino Review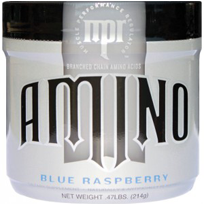 MPR Amino is an amino acid blend that is designed to be taken pre- or post-workout.
The product is stimulant-free, sugar-free, and fairly simplistic, making it ideal for stacking with other blends. This means that you can use it in conjunction with other protein powders, like Myotein, or other types of supplements.
We decided to take a closer look at this product to see what others are saying about it, and to see if it is worthy of the advertisements that its manufacturers are making. We also looked to see whether it is similar to varieties available right now.
About MPR Amino
This product is fairly easy to attain. It's sold in retail stores throughout the United States, and can be purchased online. Retailers sell this product for up to $34.99, but you can easily find it online (even on the ISS product site) for around $19.99.
The manufacturers recommend a specific types of use. As a dietary supplement, they suggest you mix 2 scoops with 8-16oz. water or your favorite beverage. For the best results, they also suggest that you use it before or after training.
MPR Amino Ingredients
1200mg of BCAA's and flavoring (like citric acid). No sugar. No stimulants. No nonsense.
Branched chain amino acids include the amino acids leucine, isoleucine, and valine. These three amino acids are found in up to 40% of muscle tissue and are thought to be huge contributors in the building and maintaining of lean muscle mass.
Though that does not give this formula much on its own, it helps to improve the benefits gained from other types of products and can help to more fully absorb and use protein.
One problem that may occur is a disproportion between the amounts of amino acids that are included in the formula. Though they are all provided in a proprietary blend, it is unclear whether they are added in equal amounts or whether some are acting and added more than others.
In addition, there are no other ingredients. The short list of ingredients would make this product pretty ineffective if taken by itself.
Conclusion
With such a simplistic ingredient profile we hesitate to recommend this product. There are so many pre and post workout products on the market that include an onslaught of BCAA's, but have the wisdom to include the other amino acids as well.
You need all nine amino acids in order to fully utilize protein synthesis and muscle building and retention. But still, if this product was stacked with others, like Myotein or another top protein powder, then it could be a decent addition to your workout routine.
So whatever your workout goals may be, this product can help you reach them. We still recommend this product be included in a post or pre-workout stack, as its incomplete on its own. But boosting your intake of BCAA's could greatly increase your potential to gain lean muscle mass and reach the goals that you've set for yourself.
In this way, MPR Amino could potential providing a missing piece of the muscle building puzzle.