Monster Milk Review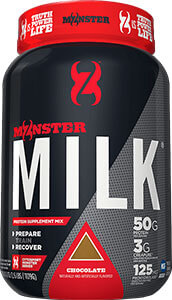 Monster Milk is a protein powder that could potentially maximize your lean muscle gains and your overall strength–all while tasting delicious.
Obviously there is more to a protein powder than the way it tastes. I decided to take a closer look at Monster Milk's formula to see if it really works or not. Comparing Monster Milk to Myotein–the #1 protein powder–is another good way to see if Monster Milk is your best option.
What Are the Benefits?
Monster Milk is made with fast and slow-absorbing proteins, which gives your body instant and sustained energy. When different types of protein are used, your body also gets different benefits from each one. Besides protein, Monster Milk has creatine and other essential amino acids, which are supposed to boost your muscle strength and growth and enhance your workout performance.
The Formula of Monster Milk
Monster Milk's sustained-release protein blend is made of milk protein concentrate, milk protein isolate, micellar casein, and calcium and sodium caseinate. The fast-release blend has whey protein concentrate, whey protein isolate, and lactoferrin. These are all high-quality proteins that should provide your muscles with energy and nutrients for faster growth and recovery. There are 50 grams of protein in each serving (2 scoops).
Monster Milk also has these ingredients in the following doses:
• L-Glutamine (5 grams) – Speeds up muscle repair and prevents breakdown
• Creatine Monohydrate (3 grams) – Increases ATP production to give muscles more energy and to speed up growth
• Beta Alanine (2 grams) – Boosts muscular strength and endurance
Is This a Good Formula?
Monster Milk has a large dose of high-quality proteins, which is what you'll also find in Myotein's formula. I like that Monster Milk offers fast and slow-absorbing types of the protein; plus muscle-building ingredients like Beta Alanine and Creatine.
Because it uses these latter ingredients, Monster Milk is designed for people who are serious about building muscle strength and mass. It may not be the best product to take if you're trying to slim down.
Will Monster Milk Cause Side Effects?
Monster Milk doesn't contain stimulants, which eliminates a major cause of side effects. However, creatine monohydrate is known for promoting water retention and causing bloating and stomach upset. I recommend starting with a smaller dose and working your way up to a powerful dose that gives you results, but doesn't cause side effects.
Another concern I have is with the amount of protein used. At 50 grams per serving, Monster Milk has more protein than the body can handle. When your body gets too much protein, a lot gets flushed out as waste.
What's the Best Way to Use It?
Since Monster Milk is designed for bodybuilders, you'll get the best results by working out regularly and eating nutritious food. I recommend only taking 1 scoop of Monster Milk, which will give you 25 grams of protein. This is a dose your body can handle, so protein is less likely to be wasted. You should get better results and you won't experience discomfort or stomach upset as a result of too-much protein.
If you want more energy during your workout, take Monster Milk 30 minutes before your workout. If you want to speed up recovery, take the product 30 minutes after your workout or before bed.
Buying & Returning Monster Milk
Monster Milk comes in containers of approximately 2 lbs. and 4 lbs. The price for 2 lbs. ranges from $34 to $55 when you buy it online. Four pounds costs anywhere from $62 to $100. These prices are typical of what you'd pay for high-quality protein. For example, 2.5 lbs. of Myotein costs around $40-$50 and 2 lbs. of Gold Standard Whey Protein costs about $40.
A money back guarantee isn't mentioned on the official website, so you may not be able to return it when buying online. However, when you buy it from stores, they might have a return policy for used/opened bottles.
Conclusion
Monster Milk would be a good product for bodybuilders who want high-quality protein and muscle building ingredients like creatine. However, I do have a concern with creatine because it makes Monster Milk more likely to cause side effects. On the other hand, Myotein–which doesn't use creatine–rarely causes side effects and it's a great product for anyone; bodybuilder or not.
The price for Monster Milk is typical, but it doesn't come with a guarantee so you try it at your own risk. Myotein has a 90-day 100% money back guarantee.
I think Monster Milk is a good protein powder, but Myotein is the best, for several reasons. I recommend trying Myotein instead. It costs less per pound, comes guaranteed, and has an awesome formula.
Feel free to share your thoughts on Monster Milk below. Do you like it? Does it cause side effects? Would you recommend it?