MHP Paleo Protein Review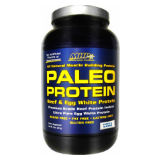 The increasingly popular Paleo diet forbids dairy, so whey protein powders are not an option for dieters. MHP came up with a solution by creating Paleo Protein. It's designed for bodybuilders, exercise enthusiasts, athletes, and Paleo dieters.
Let's see what makes MHP Paleo Protein different, and if this powder is really worth buying.
The Supplement Facts
The product comes in 2 flavors: triple chocolate and vanilla almond. Each container holds 2 lb. powder and 28 servings. Each serving contains these nutrients and quantities:
• Calories – 120
• Total fat – 0 g
• Cholesterol – 35 mg
• Carbohydrates – 9 g
• Dietary fiber – 2 g
• Sugar – 0 g
• Protein – 20 g
• Sodium – 280 g
This information comes from the triple chocolate label on MHPStrong.com. That flavor has slightly more calories, carbohydrates, and dietary fiber than the vanilla almond flavor.
The average person can completely digest up to 25 g protein at once. If they consume larger dosages, some protein will be undigested and wasted. It may also cause digestive issues such as bloating and cramps.
MHP Paleo Protein contains a good protein dosage. Consumers can take multiple servings throughout the day to increase daily protein intake. But I don't suggest taking more than 1 serving at a time. More protein isn't better if the body cannot digest it completely.
What Protein Does MHP Paleo Protein Have?
This powder doesn't use any whey, casein, or soy protein. Instead, its protein is derived from "premium grade beef and egg white."
Both protein sources are high in branched-chained amino acids (BCAAs) and essential amino acids. They are highly-filtered and ultra-pure; meaning they have less fat and cholesterol, and more pure protein. The purifying process also makes these proteins much easier to absorb and digest.
MHP claims beef and eggs are the "ultimate muscle building protein combination." They enhance muscle growth and recovery, and increase strength.
MHP Paleo Protein is sugar, fat, gluten, and lactose free, and has no artificial sweeteners or flavors.
Suggested Usage
Add 1 scoop to a glass, shaker cup, or blender. Then add 8 oz. cold water or juice. If you aren't on the Paleo diet and don't mind fat or whey, you can also add milk to the powder.
Stir, shake, or blend until the powder dissolves completely.
Do not use MHP Paleo Protein as a meal replacement. It's too low in calories and doesn't provide essential vitamins and minerals.
For best results, take MHP Paleo Protein before a meal, or before or after a workout.
User Reviews
MHP Paleo Protein hasn't been on the market long enough to garner substantial user feedback. In fact, I couldn't find a single user review or rating online.
Buying MHP Paleo Protein
MHP Paleo Protein retails for $54.99, but TheMHPStore.com sells it for $39.99. This is a good discount, but there are places to get even greater discounts:
• Bodybuilding.com: $30.77
• HealthSuperStore.com: $31.37
• ProSource.net: $32.95
On Bodybuilding.com, standard delivery takes 3-5 business days and shipping costs start at $5.98.
HealthSuperStore.com ships orders via USPS. Shipping costs vary by weight, but start as low as $6.95. Delivery takes 3-10 business days.
Orders through ProSource.net are shipped with UPS for $5.95, regardless of size or weight.
Returning MHP Paleo Protein
MHP offers a 100% satisfaction guarantee on all products. If you are not satisfied, send back the product with a brief description of the problem. The guarantee only applies to products ordered from MHP's online store. The official website doesn't say how long the guarantee lasts.
Bodybuilding.com offers an exchange or store credit for opened products. Unopened products receive a refund, an exchange, or store credit. You must contact the company before returning products. The return policy lasts 45 days.
Consumers may return unopened products to HealthSuperStore.com for 30 days. You must receive return authorization before sending products back. A 25% restocking fee may be subtracted from the refund.
If you order from ProSource.net, you have 14 days to request return authorization. The website accepts unopened products only.
How to Contact MHP
The customer service department is available Monday through Friday from 9am to 6pm.
• Phone (toll free): 888.783.8844
• Email: Support@MHPStrong.com
• Address: 21 Dwight Place, Fairfield, NJ 07004
Is MHP Paleo Protein Worth Buying?
MHP Paleo Protein contains high-quality, easily-digestible protein from beef and egg sources. Each serving has a good protein dosage, which most users should be able to digest.
This protein powder is a good choice for Paleo dieters, muscle builders, and people with milk allergies. It has no fillers, sugar, cholesterol, fat, gluten, or lactose.
MHP Paleo Protein is a good protein powder and may be worth buying. But if you're looking for an exceptional product, I recommend trying a top-rated protein powder, rather than MHP Paleo Protein.