Met-RX Protein Plus Review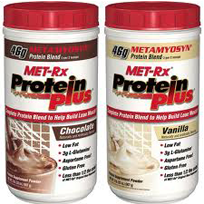 Met-RX Protein Plus is supposed to "give you the competitive advantage — especially when it comes to quality protein".
What's the secret? What makes Met-RX Protein Plus different or possibly better than other protein powders? Let's look at the formula and compare this product to Myotein to find the answers.
The Formula
Met-RX Protein Plus has METAMYOSYN®, which is the manufacturer's own premium blend:
• Milk Protein Concentrate (fast-absorbing)
• Calcium
• Sodium Caseinate (slow-absorbing)
• Whey Protein Isolate (fast-absorbing)
• L-Glutamine (3 grams per serving)
• Egg White
I like this blend because it has several sources of high-quality protein–which is also the case with Myotein's formula–instead of just whey protein.
There are 46 grams of protein per serving (3 scoops), which is 92% of your Daily Value. This is a huge dose to have in just one serving! Myotein has 26 grams per serving. This lower dose is easier for your body to process and absorb; without so much waste.
Met-RX Protein Plus doesn't have any other active ingredients besides protein; just preservatives and flavorings. This is often the case with protein powders, but some products like Myotein have more than just protein. For example, Myotein has Aminogen® and two proven muscle-building ingredients.
Supplement Facts per Serving
• 220 calories
• 2 g fat
• 10 mg cholesterol
• 7 g carbohydrates
• 2 g sugar
• 46 g protein
To see where Met-RX Protein Plus falls compared to other products, take a look at these numbers:
Myotein has 146 calories, 1 g fat, 27 mg cholesterol, 7 g carbohydrates, 3 g sugar, and 26 g protein.
Zero Carb Isopure has 200 calories, 1 g fat, 5 mg cholesterol, 0 g carbohydrates, 0 gr sugar, and 50 g protein.
Gold Standard Whey Protein has 120 calories, 1 g fat, 30 mg cholesterol, 3 g carbohydrates, 1 g sugar, and 24 g protein.
Is Met-RX Protein Plus Safe?
After researching the ingredients, I think Met-RX Protein Plus should be a safe product. I read several customer reviews and none of them mentioned side effects either. However, I think you might experience some bloating or stomach upset if you take a full serving of Met-RX Protein Plus all at once.
How to Use Met-RX Protein Plus
One serving of Met-RX Protein Plus is 3 scoops, but I recommend taking only 1-2 scoops at a time (no more than 3 a day). This way, your body won't be bombarded with protein. Your body can only handle so much protein at a time, and what it can't handle gets flushed out and wasted. Plus, spreading out your doses of Met-RX Protein Plus gives you sustained results throughout the day.
Met-RX Protein Plus can be taken in the morning or at night; before your workout or after. Users say it mixes better in milk than in water.
User Ratings
I found 26 customer reviews for Met-RX Protein Plus on Bodybuilding.com. On average, users gave the product 7.8 out of 10. I read through the reviews and found that the reason why this product got lower ratings was because people said the taste and the mixability were terrible.
Where to Buy
The only size Met-RX Protein Plus comes in is a 2 lb. container. When you buy it on the official website, it costs $35.99. This is a higher price than other retailers charge, but it may be worth it because of the 90-day return policy. I couldn't find a lot of details about this return policy online.
Other sites that sell Met-RX Protein Plus are Bodybuilding.com ($24.98), Netrition.com ($24.49), and Amazon.com ($25.99). None of these sites offer good return policies.
What's the Bottom Line?
Met-RX Protein Plus has quality proteins in its formula. And I like that it uses different types of protein; instead of the standard whey protein. With fast and slow-absorbing proteins, it should be a good product for athletes, bodybuilders, or people who want to lose weight.
Met-RX Protein Plus is a good protein powder, but there are better options out there. A great example is Myotein. It has 6 clinically proven, premium types of protein. Myotein consistently gets positive ratings from users and it comes with an excellent 90-day 100% money back guarantee. Myotein costs more than Met-RX Protein Plus, but I also think it's a higher quality/higher value product.
I recommend looking at other options before you decide to go with Met-RX Protein Plus.
If you've tried Met-RX Protein Plus before, I would love to hear your opinion! Feel free to share it below.