Mega Gainer Review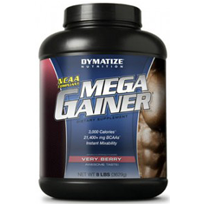 Created by Dymatize, the Mega Gainer is supposedly a revolutionary formula specifically designed to give you a great tasting mix of protein and other body-building ingredients. Bodybuilders, athletes, and weekend warriors alike can't stop talking about Mega Gainer's potential for boosting performance and enhancing muscle gains.
With Mega Gainer, you will finally be able to get 3000 calories, 31,400mg BCAA, 17100mg glutamine and glutamic acid, and instant mixability as well as an awesome taste and an NCAA compliant formula – which is definitely an impressive when you first look at the label.
Mega Gainer sounds like the best possible formula for protein related success, but is it worth the price? Let's take a closer look at what Mega Gainer has to offer before passing final judgement.
Mega Gainer Pros
Mega Gainer is available in a wide variety of tasty flavors, including very berry, rich chocolate, cafe mocha, and vanilla shake. Consumers found the taste highly enjoyable and it mixes well with water so you can quickly drink it on the go. One consumer went so far as to describe Mega Gainer as "out of this world delicious."
Although a few of the ingredients vary depending on which flavor you choose, Mega Gainer offers a whopping 30 grams of protein in 3 scoops. The protein is made from high quality ultra micro filtered whey, which means you're going to get better absorption rates and better muscle building results while using this supplement.
It's created by one of the most popular bodybuilding supplement manufacturers on the market, and if you were to visit the official website, then you'd even find a recipe for the "ultimate mega gainer shake" which includes milk, ice cream, bananas, and an entire list of familiar foods to help you bulk up and increase your protein intake.
Mega Gainer Cons
Dieters beware: Mega Gainer is not calorie friendly.
This supplement is designed to pack on the pounds and bulk you up, and if you're not careful you'll find that you'll be packing on more fat than muscle when you use this protein shake. For every serving, you get nearly 540 calories, and 7 grams of fat. If you decide to follow their recipe for the ultra mega gainer shake, then you'll get a whopping 3000 calories in their blend, which is far more than the recommended calorie consumption, so be prepared to be hitting the gym for hours before you can burn off the calories.
Additionally, Mega Gainer does not offer much when it comes to vitamins, minerals, and other nutrients essential for maintaining healthy muscles, so you'll want to make sure you're supplementing with other diet pills or eating a carefully planned diet to make sure that you get what you need.
While the amounts of BCAA's seem large, you generally measure them in grams, not milligrams, so it appears that Dymatize is trying to make their concentrations look bigger than they actually are. They try to make it seem bigger than it is.
Conclusion
Mega Gainer retails for nearly $51.99 for a 8lb container, making it fairly pricey for a protein powder that provides more calories in carbs than it does in actual protein. Although consumer reviews are fairly positive, we have a hard time recommended Mega Gainer simply because consumers are more likely to put on fat rather than muscle while using this protein. There are more affordable and higher quality supplements on the market, so shop around before buying this product.