Mass-Tech Review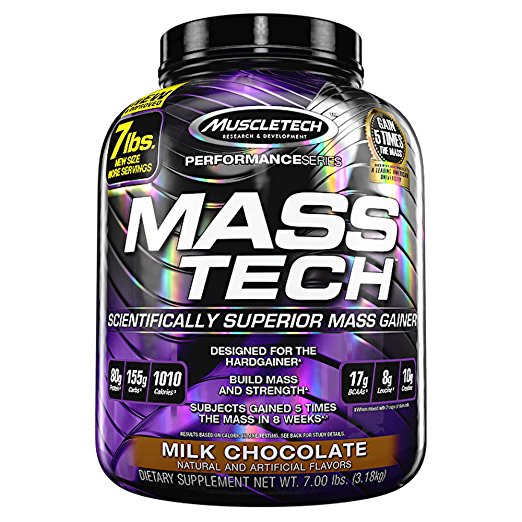 Created by MuscleTech, the makers of successful products like Hydroxycut for example, Mass-Tech is seen in most major retailers like bodybuilding.com.
Although Mass-Tech is one of the more popular and available protein powders on the market today, we didn't want to take Mass-Tech purely because it was popular. Instead, we wanted to look deeply into its formula, read consumer reviews and pay attention to clinical studies to see what Mass-Tech was really worth.
About Mass-Tech
With Mass-Tech, manufacturers promise that you will finally be able to get that sizzling muscle that you are looking for, and with this supposedly revolutionary formula you will finally be able to push past your muscle building roadblocks.
In addition, we also saw that Mass-Tech claims you will build exponential amounts of muscle for the future to get ripped! These claims are not anything too different from other products, in fact they're just vague enough that they fit almost every single protein powder on the market today.
Inside Mass-Tech
Mass-Tech lists a record 45g of protein – almost double the amount of ordinary protein powders! Unfortunately, when a protein powder offers such a high concentration per serving, you have to ask about the quality-and for good reason. There are many different types of whey protein, and the good ones don't come cheap.
Also, Mass-Tech's high amount of protein might go right through your system, without giving you any benefits whatsoever. There is some research that shows that the body is only able to absorb as many as 30-40 grams of protein per hour. This means that any protein over that amount might be wasted, so you're paying extra for powder that you can't use.
However, this research is inconclusive and if you have a higher BMI, your body might need more protein than other protein powders can give you.
Conclusion
With Mass-Tech, you might be getting lower quality proteins that do not show you any results. Additionally, if the protein isn't properly absorbed by the body, then you won't be able to achieve your physical fitness goals, which defeats the purpose of buying a protein powder in the first place.
Another thing that we noticed about Mass-Tech is that there are exceptionally high amounts of carbs which could cause you to gain more fat tissue than you might want, so you'll definitely want to be careful about how many calories you're consuming in your diet alongside your protein supplement.
If you are looking for a protein powder that is going to offer you large amounts of lean protein without adding too many calories each day, you might not be interested in Mass-Tech. However, if you are thinner and are looking for a good amount of energy as well as protein so you can bulk up, then you would probably want to try Mass-Tech.
As with all protein powders, we recommend finding out exactly what your needs are from a product before you invest in it, but for the most part, we think you'd be better off putting your money where it counts and buy one of the more effective top products listed on this site rather than Mass-Tech.