Lean Mass Complex Review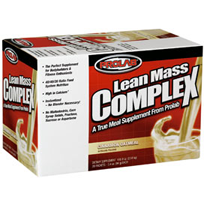 Created by ProLab, the Lean Mass Complex will help you to burn more fat, and it gives you the complex meal replacement shake based on protein for your success. With the Lean Mass Complex, you will finally be able to get all of the benefits of protein without carbs or sugars interfering! Lean Mass Complex is the formula meant to give you 40% protein, 40% carbs, and 20% fat. But is this such a great thing? Does Lean Mass Complex actually have such a winning formula?
The Good
Lean Mass Complex has about 40g of protein, which is rather significant.
The Bad
When you go on a diet for weight loss with proteins involved, otherwise known as a high protein diet, it could also be called a low carb diet. You should cut out fats, but for the most part, you cut out carbs! So obviously, they have this backwards. They use just as many carbs as they do proteins, which means that they will be absorbed before the protein, and the protein may well turn into fat at that point. Likewise, the fact is that their protein is extremely low quality, and even under ideal circumstances in your diet and your habits, you will not actually absorb this properly, not getting any of the real benefits.
The Skinny
We would not recommend using Lean Mass Complex. The Lean Mass Complex does not have what you would need, and it does not help you to achieve better results. With Lean Mass Complex, you will only be wasting more time and money, and it is more likely to contribute to obesity than to help your body to deter it. So obviously enough, it does not fulfill the basic requirements even of a protein supplement.