Labrada Lean Body MRP Review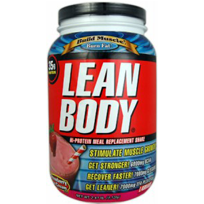 Many protein powders and supplements come up short when it comes to providing the right ingredients in the right doses. Labrada Lean Body MRP works to provide you with a formula that professes to have everything you need and more.
In the search for great lean muscle mass, promises like those offered by Lean Body MRP are great to hear.
However, we wanted to be sure that the protein and other ingredients were good enough to deliver on those promises.
Labrada Lean Body MRP Ingredients
Giving you a powerful formula with various flavors, Labrada Lean Body MRP gives you an award winning formula with 40g of pure protein.
With Labrada Lean Body MRP, you will also be able to get 8g of fiber per packet, and it will help you to maximize muscle support and growth, and Labrada Lean Body MRP will allow you to get 24 essential vitamins and minerals and only 6g of sugar.
In addition to these ingredients, Labrada Lean Body MRP adds specific amounts of BCAA's, all of which help to increase the abliity of the body to take protein and convert it into muscle. Through these ingredients, it seems that the body you've always wanted is just around the corner.
The Good
Labrada Lean Body MRP has included BCAA's in their formula and has listed each of them and their dosages individually. This is uncommon among many other protein supplements and speaks well for the honesty of the company.
It is really easy to use. The manufacturers recommend that you mix 2 scoops (70g) of Lean Body in a to a shaker, glass or blender and 10 oz of ice cold water to make a smooth delicious shake. They recommend that you use it at least twice a day for best results.
The Bad
Labrada Lean Body MRP also has 6g of sugar. That is actually quite high, and realistically speaking, it is not the fiber that they should be focusing on, but the protein. This being said, Labrada Lean Body MRP has only low quality proteins.
Also, the recommended amount of protein is about 26 grams maximum. Anything higher than that would simply be causing extra stress on the body. Essentially speaking, these proteins cannot actually properly absorb into the body, and therefore, you cannot get any of the benefits associated with them.
You are more likely to suffer side effects with this much protein in your system as well.
This product is a little expensive. It goes for about $32 for a 2.47 ounce bottle. For something that does not provide the highest quality ingredients, this seems a little excessive.
The Skinny
We did like that Labrada Lean Body MRP had so many helpful BCAA's and that the dosages were clearly listed. However, all of these will not help a prodcut to improve the quality of the proteins.
Since Labrada Lean Body MRP uses lower quality protein, it will be less likely to be effective. Also, the amount of protein they put in each serving is about twice what is actually needed. This may not be the supplement you are looking for, especially since there are others that provide higher quality proteins for the same price.