Labrada Lean Body For Her Review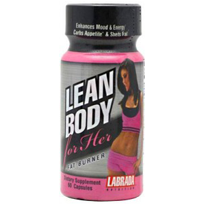 The Labrada Lean Body For Her formula is a high protein meal replacement plan to help women to lose more weight, burn more fat, and get better results with 30 grams of protein and a low carb formula in general. With Labrada Lean Body For Her, manufacturers would have you believe that you will finally be able to get 30g of lean protein, an aspartame free formula with an award winning taste, heart healthy soy, and 20 packets per container.
So the question is, how does Labrada Lean Body For Her actually work?
The Good
Labrada Lean Body For Her has 30g of protein. Protein is the essential ingredient in any of these kinds of meal replacement products, and ultimately speaking, this is a considerable amount. In addition, soy has actually been known to be quite healthy for the female body in general.
Additionally, Labrada Lean Body for Her is very calorie friendly, so if you're trying to cut back on fat, you don't have to worry. Most protein shakes offer 300 or more calories per serving, while Labrada Lean Body for her has only 180 and a single gram of sugar.
It is also available in chocolate ice cream flavor, vanilla ice cream flavor, and strawberry ice cream flavor.
The Bad
Labrada Lean Body For Her does not actually have a lot of other things. They have extremely low-quality whey protein and only small concentrations of soy. So with this in mind, it will cause stomach upset, and frankly 30g of protein isn't as great as it sounds when it's not the right kind.
Additionally, as a meal replacement shake, it doesn't have a lot to offer as far as vitamins, minerals, and other nutrients go, and there are no ingredients specifically aimed toward women's health. It's high in sodium and isn't a well-balanced source of nutrition when it comes to losing weight.
The Price
Labrada Lean Body for Her can be purchased from Labrada.com for $63.59, making it one of the more expensive protein supplements in the industry. If a product offers extreme amounts of protein or a wide variety of nutrients, the extra cost might be worth it, but considering how little Labrada has to offer, it just doesn't seem worth it.
Fortunately, Labrada products are fairly popular, so you don't have to buy from the manufacturing site directly. If you shop around, you can find a better deal on sites such as amazon.com and ebay, so it may fit in your budget and work well alongside an already healthy diet.
The Flavor and Taste
Consumer feedback has shown that women love the taste and the texture of Labrada Lean Body for her. It mixes well with water and is surprisingly thick, much like a milkshake.
The Skinny
All things considered, we have a hard time recommended Labrada Lean Body For Her. It lacks the ingredients necessary for dramatic results, and the concentrations of other nutrients don't compensate for the low-quality protein.
Even though 30 grams of protein looks impressive at first,Labrada Lean Body For Her does not actually have what it takes to produce the greater results that you are looking for. With Labrada Lean Body For Her, you do not actually get the greater approaches for success, and we would definitely recommend finding something else.