Jay Bar Review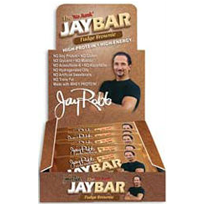 One of the best ways you can build muscle is by simply increasing your protein intake. That said, there are a number of different ways to do so. Perhaps the most proven way is by catering your diet towards protein-rich foods including dairy, meat and nut products, and by supplementing your diet with some sort of protein supplement.
Now, protein supplements come in several different forms. Most professional athletes, bodybuilders and other frequent gym-goers tend to invest in protein powders.
But there are certain downsides to most protein powders, including issues with convenience, taste, side effects and affordability. As such, more and more individuals have turned towards alternative products such as protein bars in order to supplement their protein needs.
In this review, we're going to take a glance at one protein bar in particular–the Jay Bar. Named after its creator, Jay Robb, the Jay Bar is an all-natural, protein-rich bar that claims to be one of the best in its class.
What Does This Product Do?
Like many of its counterparts, the Jay Bar is marketed as a healthy snack and food choice that can be used at any time during the day for a variety of different means beyond muscle building.
Hungry and need something healthy and filling that will hold you over until lunch or dinnertime? The Jay Bar claims to fight off hunger in a jiffy.
Trying to lose weight by eating more nutritiously throughout the day rather than snacking on junk food? The Jay Bar claims to be the perfect solution for this dilemma as well.
On top of being a nutritious snack, the Jay Bar is also marketed as being incredibly tasty. After all, what is more enticing than a snack that is both healthy and flavorful?
How Does This Product Do It?
Moving on, let's take a quick peek at the nutritional content of this protein bar. In each serving, you'll find that the Jay Bar contains 14 grams of hydrolyzed whey protein, 23 grams of carbs, 6 grams of fiber and 10 grams of essential fats. Further, it contains no trans fats or cholesterol, and only a small pinch of sodium.
As you can tell, it seems that the Jay Bar follows through quite nicely in terms of being a healthy and nutritional snack that complements both muscle building and weight loss.
As far as its taste is concerned, although we haven't tried the Jay Bar ourselves, we have read a number of testimonials written by users who thoroughly enjoyed the taste of the Jay Bar and its three different flavors.
These flavors include, Peanut Butter, Fudge Brownie and Cashew-Coconut.
Any Concerns?
In closing, we would like to bring a few concerns we have with this product to the forefront.
First of all, if you're allergic to nut products, be sure to refrain from trying the Jay Bar. Second, although this protein bar is extremely healthy, it does contain 10 grams of sugar and 5 grams of sugar alcohol. While this may not affect most individuals, those of you who are diabetic or suffer from high blood sugar approach this protein bar with caution.
Lastly, if you're currently handcuffed by a tight budget and are short on funds, you may also want to know that the Jay Bar costs $35.88 for a box of 12 individual bars/servings. In other words, expect to pay about $3 per bar/serving.
Although this price is quite reasonable for the quality you're receiving with the Jay Bar, we can understand how it may be a little too steep for certain individuals to stomach.
But as long as you're okay with a little sugar and the aforementioned price tag, there shouldn't be any other concerns that you'll need to worry about when it comes to the Jay Bar.