IsoMatrix Review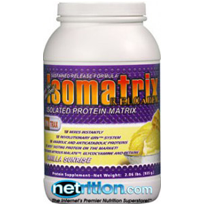 Created by a company known as Syntrax, IsoMatrix is the 2lb product that will supposedly help you to take control of your muscle building and fat burning, offering the best protein supplement on the market.
Advertisements make IsoMatrix seem like this formula is the ultimate solution for bulking up, and with IsoMatrix, athletes and bodybuilders can get back on track. Manufacturers also claim that IsoMatrix gives you more whey protein, milk protein, and otherwise the high quality proteins that you would expect from a company such as Syntrax.
But does IsoMatrix actually work?
About IsoMatrix
IsoMatrix has about 23g of protein. With this much, you can get better results, getting an appropriate amount of amino acids and even BCAA's if done right.
Unlike other protein supplements, IsoMatrix does not pack on the extra sugars or carbs, and there are only 100 calories per scoop – so you don't have to worry about packing on pounds of fat in addition to building up the lean muscle mass. This makes it easier for you to absorb the protein in this supplement, so you can get better results.
How to Use IsoMatrix
Manufacturers recommended mixing one to two scoops in 6-16 oz of water, non-fat milk, or your favorite beverage two to three times a day. I am impressed with the fact that you can adjust your dosage to satisfy your personal protein needs. Additionally, manufacturers warn that you should take note of the extra calories when combining with milk or juice, so you don't over do it on your calorie count for the day. For the best absorption of protein, it is recommended that you supplement first thing in the morning or after intense physical exercise and again before bed.
Flavors
IsoMatrix is available in three flavors: Garden Berry, Chocolate Hurricane, and Vanilla Sunrise. Though the names for the flavors are creative, the taste itself is not as amazing as consumers had initially hoped.
The Price
Isomatrix may not be the most popular protein supplement on the market, but if you shop around, you can still find IsoMatrix for about $26 for a 2 lb bottle.
Unfortunately, Isomatrix has been discontinued by Syntrax innovations because it has been replaced with a newer more effective formula known as Matrix 2.0. While you can still buy the original IsoMatrix through third-party sellers, it might not be worth the time and effort it takes to track down nor the potential risk of buying a tainted product from untrustworthy sellers.
Conclusion
IsoMatrix does have a few quality proteins which can help you build bigger muscles without the extra carbs or calories. When used correctly, you may be able to see some muscle-building results, but don't expect anything amazing or mind blowing.
While IsoMatrix is not a bad product, there are too few customer reviews and reliable sellers associated with this product, so I have a hard time recommending this formula, especially when there are more reliable supplements in the industry that could give you even greater results. Before you decide to search for IsoMatrix, you might want to check out some of the top products on this site and compare the quality.