ISOFAST 50 Review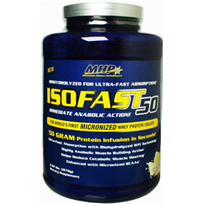 ISOFAST 50 is a protein powder combining 50 grams of whey protein isolate and BCAA's for a complete workout support formula.
There are thousands of products in the sports nutrition world that combine the same ingredients, does ISOFAST 50 stack up against its competition?
About ISOFAST 50
We always check the label when reviewing products, it's a vital component in the nutrition world because ingredients = results, and they make the difference between quality products and garbage. ISOFAST 50 contains 50 grams of protein, and under other listed ingredients includes the following:
Other Ingredients: Biohydrolyzed Whey Protein Isolate [Micronized Whey Protein Isolate, Micronized BCAAs (L-Isoleucine, L-Leucine, L-Valine), Biohydrolase (Peptidase Aspergillus Oryzae, Protease Aspergillus Oryzae, Aspergillus Melleus, Peptidase Aspergillus Niger)], Cocoa, Natural And Artificial Flavoring, Gum Blend (Cellulose Gum, Xanthan Gum, And Carrageenan), Salt, Silica, Soy Lecithin, Acesulfame Potassium, Sucralose.
Sometimes labels are scary things, they include names of products we've never heard of or used on a daily basis, such as the ingredients listed above. However, after a little bit of research, we can tell there are a few fillers in this product–but often fillers are used to improve the mix-ability or flavor of a powder over providing nutritional density.
Whey isolates are designed for easy absorption into the system, giving fast support to a post-workout body, and energy to the pre-workout one. Since they digest so quickly they do not cause constipation, which is elemental in a healthy body. Some athletes struggle digesting protein because it is such a dense compound and generally takes a while to go through the system.
The only problem we can find with such a large dose of protein is the body's ability to use it. Whey isolates absorb quickly and digest quickly–which means that the body may not have time to fully utilize the benefits. So our problem is: is most of the protein being wasted and flushed through the system too fast?
Product Pricing Information
Isofast retails for nearly $70 a bottle, but you could easily shop around on online sites and find this protein supplement for closer to $43 per bottle. This makes Isofast one of the more expensive sources of protein on the market, but many consumers seem to think that its results are well worth the higher price.
Currently there is no money-back guarantee associated with this product.
Flavors
Most protein powders try to make their formulas more palatable by offering a wide variety of flavors. Isofast 50 only offers 2: chocolate and vanilla. Consumer reviews and feedback say that it was not bland like other protein powders and that it mixes well with water to give you quality tasting protein.
Conclusion
Customer reviews have been positive for MHP's ISOFAST 50, and we listen to customers over company's proclamations. Users have reported feeling full after use, but not bloated. This is a plus, and also a common result for whey isolates. Many consumers comment about its abilities to maximize muscle gains and pumps reliably, naturally we would recommend this product for people who struggle with bloating after consumption of regular protein blends.