Isatori PWR Review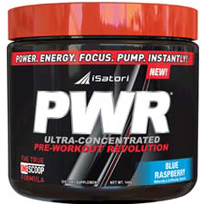 During our research, we keep finding products that products that try to do too much. The end result is usually a over complicated blend of ingredients full of fillers and fluff.
That's why it's refreshing to find products that remain simple while still able to help build muscle though multiple avenues.
One such breath of fresh air came when we came across Isatori PWR. This product has the potential to not only build muscle, Isatori PWR has the ingredients to boost energy, heighten muscle output, and deliver vicious pumps.
About Isatori PWR
Isatori PWR doesn't fall in to the filler trap. They deliver great ingredients in just one 5 gram serving. Its three objectives are backed with all the right ingredients and no more. Isatori PWR uses creatine nitrate and creatine monohydrate to raise ATP levels for more muscle output.
It also contains Arginine AKG, an amino acid the body needs to create nitric oxide, a gas that opens blood vessels and delivers more nutrients to muscles for quicker recovery and insane pumps. Finally, Isatori PWR contains stimulants like caffeine anhydrous to propel your energy to new heights so you can train harder and longer.
How to Use Isatori PWR
According to the manufacturers, Isatori PWR is best used by mixing one level scoop of PWR with four to six ounces of water. Drink the mixture 15 to 20 minutes before you work out, preferably on an empty stomach.
However, for your first week of training, you may want to try using only half the recommended serving—half a scoop of Isatori PWR.
Only take Isatori PWR on days you want to train, and never take more than the recommended dosage.
You may also want to avoid taking Isatori PWR within four hours of bedtime in order to avoid sleeplessness.
What Customers Say
Customers who have previously taken Isatori PWR seem well-satisfied with their protein powder. They cite improved mental focus and greater physical energy as the main reasons for their satisfaction with Isatori PWR, combined with the relatively inexpensive price and overall value of the product.
As to taste, they say that it isn't terrible though it can have a slight sting when you first start drinking the supplement.
Is Isatori PWR Safe?
Isatori PWR does contain some stimulants. That might result in some caffeine jitters or sleeplessness. But other than that, it's quite safe if you stick to the recommended dosage. The other drawback to Isatori PWR is that it contains no protein. Protein is the material your body needs to actually build muscle. Isatori PWR would have to be used in tandem with a protein supplement for the best results.
Conclusion
With a comprehensive list of benefits backed by proven ingredients, Isatori PWR really holds up. If you stack this with a protein supplement, you will have laid a foundation for a great supplement regimen. Isatori PWR does cost around $30.00, which makes it a fairly inexpensive buy for a product of its kind. If you do some hunting online, you're sure to find it for even less.