Inner Armour Blue Hard Mass Gainer Review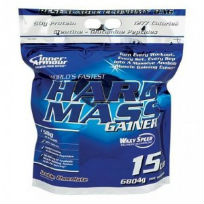 Hard Mass Gainer is a new muscle and mass gainer by Inner Armour said to be a revolutionary muscle food for athletes and trainers.
Inner Armour Blue Hard Mass Gainer purportedly increases energy, promotes lean muscle mass development, accelerates recovery, reduces muscle soreness, and enhances immune system function.
It is designed to maintain an anabolic state. It prevents the body from breaking down proteins for energy by supplying sufficient amounts of protein and carbohydrates to replenish muscle stores.
I decided to see what the supplement community had to say about it.
User Reviews
Reviewers have mixed feelings about Hard Mass Gainer. Some people achieved gains and were satisfied, and others said they didn't finish the bag. Here is what some users are saying:
BryceBrah on SupplementReviews.co.nz says, "Gained like a beast when I was on this and unlike other mass gainers, it mixed well and the consistence was great. Pretty much impossible not to put on weight with this at 1277 calories per serve, I'd recommend it to anyone who considers themselves a hard gainer and doesn't mind putting on a bit of fat."
"The Double Chocolate flavor was crazy delicious," says KiwiDan. "Light and fluffy consistency, really smooth to drink too. 50 g of protein per serving plus added creatine. I think this brand is relatively well priced too."
"Tried one of these 15 lb bags of double chocolate," says BIgPoppaham. "To be honest, I couldn't wait to finish it." He explains that it didn't taste good and says all he noticed was excessive bloating. However, he does mention he put on some weight.
However, some users complain about the consistence being too thick. Two people review their experience with Hard Mass Gainer on YouTube under the handle MyGymProgression. "It is hard, hard to drink that is," says one of the YouTube reviewers. "It has a lot of amino acids, so that's good, a lot of thickness." The other reviewer in the video says the company wasted its time with the thickness. "Inner Armour is a no go."
What's Inside Hard Mass Gainer?
There are numerous ingredients in Hard Mass Gainer, including two proprietary blends and several amino acids. Unfortunately, proprietary blends make it impossible for users to find out individual ingredients and doses. Here are some of the ingredients:
Protein (50 g). Protein is listed as a main ingredient, although which types of proteins in this complex remains a mystery. Without this information, it is difficult to tell if this blend is effective.
Protein is important for repairing damaged muscles and reducing muscle soreness. [1]
In general, a recommended protein amount for healthy individuals is around .75 g/kg. However, athletes tend to require more protein to supplement their activities, so recommended amounts range from 1 – 2 g/kg. [1]
Considering some users take Hard Mass Gainer between meals and after work outs, there is enough to offer muscle-recovery benefits.
L-Glutamine (1000 mg). Glutamine strengthens the immune system and combats infections. Glutamine also protects gastrointestinal tract lining. [2]
L-glutamine is dose-dependent, but general doses range from 500 -1,500 mg daily. [2]
There is enough L-glutamine in Hard Mass Gainer to offer immune-boosting benefits.
However, some studies failed to find any evidence glutamine enhyances muscle performance, body composition, or muscle protein degradation in healthy athletes. [3] [4]
Carbohydrates (267 g). This blend contains Glycogain long and short chain complex carbohydrates. I was unable to find any clinical studies surrounding Glycogain. But, carbohydrates are important compounds for energy. [5]
One study indicates 112 g carbohydrate mixed with 40.7 g protein before and after a workout enhanced muscle glycogen-storage in 9 male cyclists. [6]
Carbohydrate content in Hard Mass Gainer should positively affect glycogen storage.
Branched-Chain Amino Acid Content
Hard Mass Gainer contains BCAAs like L-leucine (5.29 g), L-valine (1.51 g), and L-isoleucine (3 g). These amino acids in a 5 g BCAA mixture (Ile:Leu:Val 5 1:2.3:1.2) were shown to decrease muscle fatigue and reduce delayed-onset muscle soreness when mixed in a green tea powder. [7]
BCAA content in Hard Mass Gainer should offer similar recuperative benefits.
Creatine Monohydrate (4000 mg)
Creatine enhances energy by providing an extra phosphate. One website indicates a typical creatine dose is 20 g for 5 days followed by a maintenance dose of 2 g per day. [8]
There isn't enough creatine for a loading phase, but it may enhance energy with continual use.
Where to Purchase Hard Mass Gainer?
Hard Mass Gainer is not available for purchase through the official website. Users can purchase a 15 lb. bag from MuscleAndStrength.com for $49.88 or a 5 lb. bag for $19.99.
Hard Mass Gainer is available in Cookies & Cream, Double Chocolate, Fresh Strawberry, and Vanilla Cream.
How to Use
One serving consists of 4 heaping scoops. The manufacturer recommends mixing 1 serving with 27 oz. of a preferred beverage between meals and immediately after intense exercise.
However, users have said they generally mix smaller amounts because of its thickness. Several third party retailers say the formula is highly concentrated and suggest taking half servings 2 or 3 times a day.
Is Hard Mass Gainer a Good Product?
Inner Armour Blue Hard Mass Gainer definitely covers its bases with its ingredient-rich formula. The ingredients are clinically proven to enhance protein synthesis and energy and reduce muscle fatigue. Although user reviews are mixed, even negative reviewers mention gainied a couple pounds while taking Hard Mass Gainer.
It is a little pricy, considering one bag contains 20 servings. But if you already spend money on supplements and are having a hard time making gains, I suggest trying it out.
References
[1] "Protein Shakes." WebMD. Available from: http://www.webmd.com/diet/protein-shakes
[2] "Glutamine." University of Maryland Medical Center. Available from: http://umm.edu/health/medical/altmed/supplement/glutamine
[3] Candow DG et al. "Effect of glutamine supplementation combined with resistance training in young adults." Eur J Appl Physiol. 2001 Dec; 82(2):142-9. Available from: http://www.ncbi.nlm.nih.gov/pubmed/11822473
[4] Antonio J et al. "The effects of high-dose glutamine ingestion on weightlifting performance." J Strength Cond Res. 2002 Feb; 16(1):157-60. Available from: http://www.ncbi.nlm.nih.gov/pubmed/11834123
[5] Burke LM, Loucks AB, Broad N. "Energy and carbohydrate for training and recovery." J Sports Sci. 2006 Jul; 24(7):675-85. Available from: http://www.ncbi.nlm.nih.gov/pubmed/16766497
[6] Zawadzki KM, Yaspelkis BB 3rd., Ivy JL. "Carbohydrate-protein complex increases the rate of muscle glycogen storage after exercise." J Appl Physiol. 1992 May; 72(5):1854-9. Available from: http://www.ncbi.nlm.nih.gov/pubmed/1601794
[7] Yoshiharu Shimomura et al. "Nutraceutical Effect of Branched-Chain Amino Acids on Skeletal Muscle." The Journal of Nutrition. American Society for Nutrition. 2006. Available from: http://jn.nutrition.org/content/136/2/529S.full.pdf
[8] "Creatine." MedlinePlus. Available from: http://www.nlm.nih.gov/medlineplus/druginfo/natural/873.html