Inner Armour Blue 100% Isolate Zero Review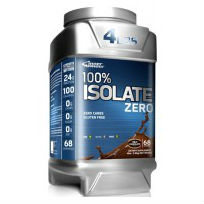 Athletes looking for a supplement to aid recovery may be interested in 100% Isolate Zero.
100% Isolate Zero by Inner Armour is the newest supplement to complement the Blue Product line. It is gluten free and contains no carbohydrates; perhaps that's where the "Zero" in the name comes into play.
Let's take a look at the ingredients in 100% Isolate Zero to see if it's worth adding to your exercise routine.
A Look Inside A Tub Of 100% Isolate Zero
100% Isolate Zero contains two types of protein isolate: whey protein isolate and milk protein isolate.
While both proteins come from milk, one is derived from whole milk while the other is derived from whey. Protein isolate is less fatty and contains fewer calories than most other protein forms. This makes it a great protein to use during a cutting phase.
Whey protein isolate comes from whey. It contains around 90% protein by weight. It provides a sustained release of energy during exercise. [1]
Milk protein isolate comes from whole milk. It also contains about 90% protein. The protein is isolated by removing lactose and minerals. [2]
Is It A Good Price?
This 4-pound container of Inner Armour Blue 100% Isolate Zero comes in Vanilla and Chocolate. Each container provides 68 servings.
The lowest price I found was $53 per tub, but it is also available for the full price of $100 per tub.
More About Inner Armour
Inner Armour offers premium products formulated for athletes. The official website claims, "they are the most powerful supplements in the world."
All Inner Armour products are "Banned Substance Free." For quality assurance, the company ships its products to a substance control group facility before release.
Should You Buy 100% Isolate Zero?
So far, all I know about 100% Isolate Zero is ingredients, price, and company information. They are all encouraging.
However, I usually hold off on recommending a product without consumer feedback. Consumers can tell us if the product works well with workouts, if it tastes and mixes well, or if the price is a good fit.
Until I have more information, I can't heartily recommend 100% Isolate Zero.
References
[1] Pasin G, Miller SL. "U.S. Whey Procutrs and Sports Nutrition." National Dairy Council. Available from: http://www.nationaldairycouncil.org/SiteCollectionDocuments/education_materials/whey_protein/WheySports.pdf
[2] "Milk Protein Isolate." American Dairy Products Institute. Available from: http://www.adpi.org/DairyProducts/DryMilks/MilkProteinIsolate/tabid/358/Default.aspx