HypOxygen Review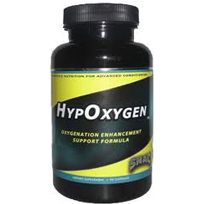 HypOxygen is an oxygenation enhancement formula scientifically backed to increase vasodilation, relaxed blood veins resulting in higher blood transportation through the body and into muscles.
HypOxygen has a unique formula composition compared to other vasodilators on the market, most of which promote their use of arginine. Studies have shown that arginine is ineffective for short-term blood oxygenation and thus rendered useless amongst users. HypOxygen promotes the use of iron as an essential agent to increase oxygenation of hypogloben (blood).
VO2 max is the maximum amount of oxygen an individual can utilize during exercise.
The Importance of Iron
"Nutritional factors, particularly iron stores, play a critical role in an athlete´s ability to respond to high altitude or hypoxic (low oxygen) training. In a series of studies involving more than 100 competitive distance runners, 40% (60% of women and 25% of men) were found to have reduced iron stores based on a low serum ferritin level.
The athletes with a low ferritin level prior to high altitude exposure (male and female) were unable to increase the volume of red blood cell mass and did not increase VO2 max or improve performance. Iron depletion may not only compromise oxygen carrying capacity, but also reduces VO2 max and performance, even in nonanemic athletes. Thus iron stores should be normalized before undertaking a period of high altitude or simulated altitude training." [BD Levine and J Stray-Funderson. Exercise at High Altitude. Chapter 21, page 125. Sports Medicine Secrets by Morris D Mellion]
Read the Label
Amount Per Serving:
Vitamin C (As Ascorbic Acid) 200mg
Vitamin E (As D-Alpha Tocopheryl Succinate) 400IU
Vitamin B1 (As Thiamine Mononitrate) 20mg
Vitamin B2 (As Riboflavin) 20mg
Vitamin B3 (As Niacin) 20mg
Vitamin B6 (As Pyrodoxine Hydrochloride) 20mg
Folic Acid (As Folate) 400mcg
Vitamin B12 (As Cyanocobalamin) 300mcg
Iron (As Bisglycinate) 20mg
Selenium (As Selenomethionine) 70mcg
L-Carnitine (As L-Carnitine Tartrate)
Conclusion
HypOxygen is a quality product using the best ingredients available. Their scientifically backed studies (that are much more extensive than we share here) show that their productive works as an effective agent in increasing stamina and oxygenation of the body in athletes.
The use of this product can potentially be the key ingredient to reaching your goals as an athlete. It's large dose of B vitamins and use of carnitine and iron are a striking combination that are sure to show you results in energy and consistency.