High Protein Bar Review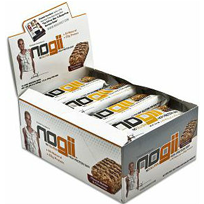 If you're looking for a relatively inexpensive and convenient way to increase your protein intake, then there's no better way to do so than by buying a case of protein bars.
Nutritious, yet still tasty, these snack-sized bars have hit the market in full force. That said, there are a number of options to choose from when it comes to protein bars. In this review, we're only going to concentrate on one option in particular, called High Protein Bar.
We know, the name is pretty lame…but hey, the High Protein Bar is endorsed by none other than The View's own, Elizabeth Hasselbeck.
Here are a few other things to look forward to with this product…
The Good
As its name suggests, the High Protein Bar is, indeed, quite high in protein. In fact, you'll get 20 grams of protein from each bar/serving of this product including soy isolate and milk isolate.
With these 20 grams, you'll also find 20 grams of carbs, 8 grams of essential fats and 2 grams of fiber packed into each serving of this protein bar. Further, the High Protein Bar contains no trans fats or cholesterol and is low in sodium.
All in all, this protein bar seems more than capable of giving users the nutrients they need to live a healthy, energetic and fulfilling lifestyle.
Along with its nutritional value, and as we stated above, the High Protein Bar is also very convenient-to-use.
Need a little boost before heading to the gym or even after you've gone? Go ahead and snack on this product.
Or maybe you still have three hours to go at work and you're getting hungry and tired. Why not snack on this protein bar to stop your cravings and to re-energize yourself?
In other words, the High Protein Bar can be used at anytime during the day during any type of activity without affecting its results.
Lastly, the High Protein Bar almost looks like a typical candy bar if we didn't no otherwise. Its granola coating tastes like peanut butter and is drizzled with chocolate. So as long as you like granola, peanut butter and chocolate, you should have an enjoyable time chewing this protein bar.
The Bad
Speaking of chocolate, there is one knock against the High Protein Bar's nutritional content and value….it contains 10 grams of sugar.
Now, this amount is not outrageous by any means, but it may pose as a health risk if an individual is diabetic. At the very least, it may pose as a nuisance to those of you trying to cut sugar out of your diets. Either way, we would have liked to have seen this product's sugar count be halved or at least dropped by a few grams.
Also, if you're on a tight budget, you may want to know that the High Protein Bar costs almost $40 for a box of 12 bars if you're planning on purchasing it from its manufacturer's website. With this in mind, you're basically paying over $3 per bar/serving.
So if that's out of your ideal price range, we'd suggest scouring the web for a better deal on this protein bar.
The Skinny
In conclusion, there is a lot that the High Protein Bar can hang its hat on. Its tasty, nutritional and convenient. On the flip side, it is somewhat high in sugar and a little pricey…so, we're only going to give it one thumb up instead of two thumbs up.
This is definitely a good product to consider when it comes to protein bars, just not a great option.