Goatein Review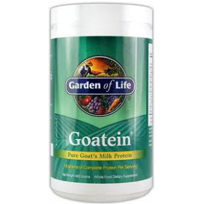 Garden of Life's Goatein protein powder is derived (as the name suggests) from goat's milk. This makes it a great protein alternative for athletes who are allergic to milk or struggle to digest it.
But just because Goatein is supposed to be gentler on the body, doesn't mean it's effective. In order to be effective, it needs to have good ingredients that can deliver results.
Let's look at the research and see whether or not Goatein can deliver the same quality and results you'd get from the #1 protein powder Myotein.
Goatein Ingredients
Goatein has a simple formula of four ingredients: goat's milk protein concentrate, natural vanilla flavor, guar gum, and Lo Han fruit concentrate.
In each serving (1 heaping scoop, 20 grams), there are…
• 80 calories
• 0.5 grams of fat
• 5 mg of cholesterol
• 5 grams of carbohydrates
• 3 grams of sugar
• 13 grams of protein (26% of Daily Value)
I like this formula because it is very clean and safe. It would be great for people who don't like artificial flavors, dyes, and preservatives.
The protein in Goatein should also be very good. The manufacturer promises that it comes from pure goat's milk and doesn't contain any antibiotics, pesticides, herbicides, or growth hormones. It has all 8 of the essential amino acids that make up protein. And since goat's milk protein molecules are structured differently than cow's milk proteins, Goatein should be easy to digest.
Safety
Unlike other forms of protein, Goatein does not irritate allergies and is easier to digest; meaning you should experience fewer side effects and less nausea while taking this protein powder.
What Do Users Say?
I was only able to find 35 customer reviews online. From these reviews, Goatein received an average rating of 4.3 stars out of 5, which is actually very good. This is the kind of high rating a top product like Myotein gets.
About 85% of the users who left reviews said they would recommend Goatein to others.
How to Use It
Each scoop of Goatein should be mixed with at least 8 ounces of fluid. You can mix it with juice, water, plant-derived milk products, or smoothies. Some users even put it in cereal or yogurt or use it for cooking.
You can take anywhere from 1-4 scoops of Goatein every day; it just depends on how much protein you want to get from this supplement. If you get a lot of protein from other sources, you don't need to take as much Goatein.
I don't recommend taking more than 4 scoops a day because this will give you more than 100% of your Daily Value. More protein is not better, and your body can't use it, so it will just get wasted.
The Taste
One of the biggest complaints users have about Goatein is the taste. Goatein uses artificial sweeteners to make the formula more palatable, but consumers find it "sickly" sweet rather than flavorful. Fortunately, it has a smoother texture than most protein powders, rather than gritty, so it should go down easier.
The Price
Although you can't purchase Goatein directly from the manufacturer, the official website does show you nearby retailers who carry the product. All you have to do is type in a zip code.
If you want to buy it online, Goatein can be found on Bodybuilding.com, Vitacost.com, or Supplementwarehouse.com. The lowest price I could find is $25.99 for a 440 gram container on Supplementwarehouse.com.
With this price, Goatein costs less than most high-quality whey protein powders. Hopefully, the lower price isn't due to lower quality ingredients.
The Guarantee
Currently, there is no guarantee backing this product, so if you don't get the results you're looking for, you're stuck with it.
Although a guarantee isn't a must, it's usually a nice thing to have because it's a sign of quality. It shows that the manufacturer is confident in their product and won't make you pay for it if it doesn't work. Myotein comes with a 90-day 100% money back guarantee.
Conclusion
On the plus side, Goatein is a safe product for people who can't use whey or milk protein powders. It comes from a reputable manufacturer. And it's affordable. On the downside, Goatein only has one type of protein. Usually, the best protein powders have multiple types of protein, which gives you more results (e.g. Myotein has 6 proteins). Also, Goatein is not the best tasting product.
Goatein could be a great product for you, and there are many people who like it. But since it doesn't come with a guarantee, you're taking a risk by trying it.
I recommend looking at other non-whey protein powders before you settle on Goatein. And make sure whatever product you choose can deliver quality and results like Myotein does. After all, it is the #1 protein powder.
Have you used Goatein? If yes, please share your comments and opinions below.