GNC GenetixHD Iso-Define Review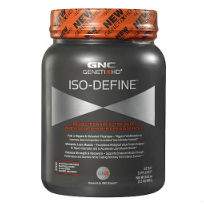 GNC GenetixHD Iso-Define is advertised as a muscle building, recovery enhancing powder that comes in two flavors: Swiss Chocolate and Berry Sorbet.
Composed of a pure whey isolate hyper defining matrix, Iso-Define supposedly gives everyone the slim, cut look they desire.
So, I decided to find out more about GNC GenetixHD Iso-Define.
About GNC
In 1935 David Shakarian opened a health store called Lackzoom and then changed the name to GNC in the 1960s. GNC was a private company until 2011, and it is now located in 49 countries.
GNC is one of the world's largest companies devoted purely to enhancing the quality of life. It's important to GNC that customers are satisfied, which is why they offer a money-back guarantee on all their products.
While the manufacturer has a long, positive history, it doesn't always mean their products are the best out there. To find out if Iso-Define lives up to GNC's reputation, I dug a little deeper into the formula itself.
What Is in GNC GenetixHD Iso-Define?
GNC GenetixHD Iso-Define features a hyper defining matrix. Here are the main ingredients in the matrix.
Clarinol CLA
Clarinol is a brand name for CLA, or conjugated linoleic acid.
In a clinical study, human subjects given 1.7 – 6.8 g CLA showed a decrease in body fat. The best results were observed in groups receiving more than 3.4 g. [1]
GNC GenetixHD Iso-Define contains 1.8 g per scoop. This is on the lower end of dosages producing results, so it might not be as effective as results found in the study.
Medium Chain Triglycerides
Medium Chain Triglycerides (MCTs) are easy-to-digest, man-made fats made of processed coconut and palm kernel oils.
A study conducted on 78 men and women showed 4 weeks of MCT ingestion resulted in body weight and body fat loss. While this may promote muscle gain, it was not observed in this study. [2]
L-Carnitine
A study done on 7 bicyclists given 5 g carnitine daily showed no results in muscle building. [3]
However, carnitine does increase performance and recovery. Studies show carnitine increases time to exhaustion by 40%. [4]
GNC GenetixHD Iso-Define contains 500 mg carnitine, which is not enough to assure results observed in the study.
L-Leucine
According to PhD nutritionist Donald Layman, leucine maintains muscles while decreasing body fat. [5]
In one of his studies, he compared a leucine diet with a typical American carb diet. He found that while both diets supported weight loss, the leucine diet retained more muscle than the carb diet.
However, he also found those on the carb diet had lower cholesterol levels than those taking leucine. [6]
Whey Protein Isolate
Many studies show whey protein preserves and builds skeletal muscle. [7] [8] [9]
For example, one study observed males during an 11 week period and found whey protein supplementation increased strength by 76%. [10]
Other ingredients in the Berry Sorbet flavor include: xanthan gum, beet color, citric acid, and stevia leaf extract.
Other ingredients in the Swiss Chocolate flavor include: cane sugar, cocoa, xanthan gum, stevia leaf extract, and silica.
These are primarily used for sweetening and coloring, and they have no effect on physical performance.
How to Get the Best Results
GNC GenetixHD Iso-Define gives you 2 approaches for sculpting a better body:
Defined Physique, Lean Muscle Support, Enhanced Recovery
Training days: take 1 scoop post-workout.
Non-training days: take 1 scoop in the morning or between meals.
Lean Sculpted Physique, Better Metabolism, Lean Muscle Growth, Improved Strength
Training days: take 1 scoop in the morning or between meals, and then take 1 scoop post-workout.
Non-training days: take 1 scoop in the morning and 1 scoop in the afternoon.
Possible Side Effects
GNC GenetixHD Iso-Define is a new product, so no side effects have been observed yet.
However, side effects for individual ingredients include upset stomach, fatigue, vomiting, and gas.
These were mostly recorded in circumstances where large quantities where taken.
Price
GNC GenetixHD Iso-Define is sold exclusively by GNC for $43.99, but members can buy it for $39.59.
This is available online or at any of GNC's 6,000 stores nationwide.
Price Comparisons
GNC GenetixHD Iso-Define is a more expensive whey protein isolate product.
Although whey protein powders are usually around the same price, they typically have more than twice the powder found in GNC GenetixHD Iso-Define.
For example: GNC charges about $2 per scoop for Iso-Define, whereas Dymatize Elite Whey Protein Isolate costs 71 cents per scoop. However, Dymatize Elite Whey Protein doesn't include any of the added ingredients that GNC GenetixHD Iso-Define has.
What the Customers Think
Unfortunately, there aren't many reviews on Iso-Define. But here is one opinion on the Berry Sorbet flavor:
"I picked up some recently and so far it's great. it's slightly pricey, but it's more than just a protein powder. My favorite part is that it has no artificial sweeteners.. This is one of the few powders with real sugar. The taste itself is pretty good, it's not anything amazing. The powder mixes pretty easily with just a fork. If you are looking to build muscle get this. It has everything necessary to build muscle without any negative ingredients."
What I Think
The ingredients in GNC GenetixHD Iso-Define seem effective and promising, but I'd love to see more human research done.
I feel confident GNC is a reliable trustworthy manufacturer; however, I'm not in love with their price tag.
The customer reactions give me hope this powder tastes decent and mixes well.
If you're looking for an affordable whey protein powder, I wouldn't suggest Iso-Define. Though, it comes with a great guarantee that other products don't have, so it might be a price worth paying if it works.
References
[1] Blankson, Henrietta, Jacob A. Stakkestad, Hans Fagertun, Erling Thom, and Jan Wadstein. "Conjugated Linoleic Acid Reduces Body Fat Mass in Overweight and Obese Humans." The Journal of Nutrition (2000). Web. 13 June 2013. http://jn.nutrition.org/content/130/12/2943.short.
[2] Tsuji, Hiroaki, Michio Kasai, Hiroyuki Takeuchi, Masahiro Nakamura, and Mitsuko Okazaki. "Dietary Medium-Chain Triacylglycerols Suppress Accumulation of Body Fat in a Double-Blind, Controlled Trial in Healthy Men and Women." The Journal of Nutrition (2001). Web. 13 June 2013. http://jn.nutrition.org/content/131/11/2853.short.
[3] Soop, M, O Bjorkman, G Cederblad, L Hagenfeldt, and J Wahren. "Influence of carnitine supplementation on muscle substrate and carnitine metabolism during exercise." Journal of Applied Physiology (1988). Web. 13 June 2013. http://jap.physiology.org/content/64/6/2394.short.
[4] Lancha, A.H., M.B. Recco, D.S.P. Abdalla, and R. Curi. "Effect of aspartate, asparagine, and carnitine supplementation in the diet on metabolism of skeletal muscle during a moderate exercise." Physiology & Behavior 57.2. Web. 13 June 2013. http://www.sciencedirect.com/science/article/pii/003193849400243X.
[5] Kirchheimer, Sid. "Protein Diet May Prompt Weight Loss Amino Acid in Animal Protein Burns Fat, Spares Muscle." WebMD.com. N.p., 2003. Web. 13 June 2013. http://www.webmd.com/diet/news/20030207/protein-diet-may-prompt-weight-loss.
[6] Layman, Donald. "The Role of Leucine in Weight Loss Diets and Glucose Homeostasis." The Journal of Nutrition (2003). Web. 13 June 2013. http://jn.nutrition.org/content/133/1/261S.short.
[7] Hayes, Alan, and Cribb J. Paul. "Effect of whey protein isolate on strength, body composition and muscle hypertrophy during resistance training." Clinical Nutrition and Metabolic Care 11.1 (2008). Web. 5 June 2013. http://journals.lww.com/co-clinicalnutrition/Abstract/2008/01000/Effect_of_whey_protein_isolate_on_strength,_body.9.aspx.
[8] Cribb, Paul J., Andrew D. Stathis, Christos George, Michael F, and Alan Hayes. "Effects of whey isolate, creatine and resistance training on muscle hypertrophy." Victoria University Insitutional Repository . Web. 5 June 2013. http://vuir.vu.edu.au/1441/.
[9] Katsanos, Christos S., David L. Chinkes, Douglas Paddon-Jones, Xiao-jun Zhang, and Asle Aarsland. "Whey protein ingestion in elderly persons results in greater muscle protein accrual than ingestion of its constituent essential amino acid content." Nutrition Research (2008). Web. 13 June 2013. http://www.nrjournal.com/article/S0271-5317%2808%2900155-3/abstract.