Gaspari IntraPro Review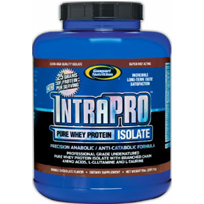 Trying to find a protein powder that will give you the same results a body builder would expect can become exhausting and frustrating and even expensive if you've been trying multiple protein powders in your search.
But, that's what we're here for. We research the product for you to give you an overview full of information.
If you want body builder results turn to a product that has been formulated with those results in mind.
Gaspari IntraPro is a protein powder that has been built specifically to produce better pumps and increased muscle gains.
What Does Gaspari IntraPro Do?
Because it's been designed around the competitive body building community, Gaspari IntraPro is designed to give you the same results that a body builder would expect when taking a protein powder.
Gaspari IntraPro can say this because of the ingredients it uses in its formula. Gaspari IntraPro is a pure Whey Protein Isolate that contains a High Nitrogen Protein Blend to give your body quality protein.
Ingredients are:
• The IntraPro AAC6 High Nitrogen Protein Blend, which includes an Ultra Filtered Whey Protein Isolate and several branched chain amino acids to help with building muscle.
• A Lipid Complex including Sunflower Oil, Maltodextrin, Flax Seed Oil, and other ingredients. These contain helpful fats that are known to help build muscle and increase health.
• A Controlled Dispersion Complex, which includes Xanthan Gum, Cellulose Gum, Carageenan for regulating the dispersion and absorption in the body.
With the High Nitrogen Protein Blend in Gaspari IntraPro, you'll get a large amount of protein in every serving, 25 grams, and a 50% daily value.
Gaspari IntraPro will give you plenty of other nutrients too. In each serving you'll also get 150 milligrams of Calcium (15% daily value), 45 milligrams of Cholesterol (15% daily value), 1 milligram of Iron (5% daily value), 150 milligrams of Potassium (4% daily value), 70 milligrams of Sodium (3% daily value) and Vitamin A and D in just 155 calories and 0.5 grams of sugars.
Anything To Be Worried About?
Gaspari IntraPro contains milk ingredients and could cause a problem for the lactose intolerant individual. Also, Gaspari IntraPro is made in a plant that also processes eggs, soy, peanuts, tree nuts, fish, crustaceans, shellfish, and wheat.
However, we could not find any other warnings for those that are not allergic to these ingredients.
Would We Recommend Gaspari IntraPro?
Gaspari IntraPro is a protein powder that has built its ingredients around the type of ingredients that a body builder would want in a protein powder; therefore, we are confident that if you're looking for that same combination, Gaspari IntraPro will be a good match for you.
It has a good amount of protein, amino acids, and other nutrients to make a comprehensive formula. It would be nice to know the dosages of the amino acids and other ingredients inside the blends, but we do appreciate that all ingredients are listed.
However, everybody responds to powders and supplements differently, so we would recommend starting with a lower dosage and then building up if the ingredients agree with you. We do not recommend this product to those that are lactose intolerant or have an allergy to any of the ingredients listed above.