Essential AmiN.O. Energy Review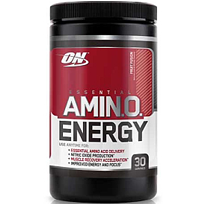 Essential AmiN.O. Energy is a powder mix but it's not a protein supplement.
Instead, it contains several protein building blocks in the forms of BCAA's, L-arginine, and beta-alanine. Along with those, it also boasts a few energy boosters to supply your workouts with more fuel and spark.
All these claim to help you build more muscle among other things, but without protein, is Essential AmiN.O. Energy really going to offer that much?
The answer is both yes and no. Let's look at a few of the ups and downs of this product.
About Essential AmiN.O. Energy
Most if not all of Essential AmiN.O. Energy's ingredients are well suited to handle the job they claim to do. With the BCAA's, you're going to have several components to initiate protein synthesis. Essential AmiN.O. Energy also contains stimulants like caffeine to give your workouts a lift while delaying fatigue. Amino acids like L-arginine also add a great touch.
When broken down, L-arginine produces nitric oxide, a gas that makes veins widen and bring muscles more blood. With added blood supply, muscles recover faster and perform better. Finally, Essential AmiN.O. Energy contains beta-alanine. This amino acid helps fortify carnosine concentrations, thus thickening muscle fibers. Added carnosine helps muscles increase in output and endurance.
Does Essential AmiN.O. Energy Really Work?
Without being too harsh, there really aren't too many drawbacks to Essential AmiN.O. Energy. The only thing we see is the product's directions are a little confusing. If they mean what we think they mean, you'll also have to take several scoops of this stuff every day. Having to take it before and after workouts might make it slightly inconvenient.
Conclusion
Overall, Essential AmiN.O. Energy has some amazing benefits to offer and for $20, it's available at a great price. However, you might want to see that price lowered when you realize you'll have to stack Essential AmiN.O.
Energy with some good creatine and protein supplements to see optimal results. But even though that's the case, Essential AmiN.O. Energy might be worth looking into to get the most out of your current protein powder regimen.