Elite Mass Review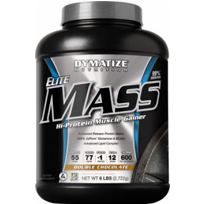 If you strive to be a hardcore athlete or are already there and just want to pack on some more muscle, you might want to try Elite Mass. This protein shake could be exactly what you are looking for.
According to the makers of Elite Mass, their product contains more calories and protein, gram for gram, than any other protein shake on the market. This supplement was designed by Dymatize, a well-known and reputable supplement company, but does Elite Mass actually work?
Under the Hood
There are around 40 ingredients found in five proprietary blends that make up Elite Mass. Many of these ingredients are vitamins and minerals that are included to improve overall health and body function. Along with these ingredients Elite Mass also contains ingredients that help increase energy, build muscle, and promote quicker recovery. Here are just a few of those ingredients.
Whey Protein: Whey is common among protein supplements because it is generally safe and effective at providing high amount of protein to the body.
BCAAs: Leucine, isoleucine, and valine are considered the three branched chain amino acids and are commonly found in our muscle cells replenishing protein levels according to research.
Waxy Maize: While some researchers suggest that waxy maize helps produce more glycogen and refuel muscles, no official studies have been able to prove the benefits waxy maize has on athletes.
Flaxseed oil: Flaxseed oil contains omega-3 and omega-6 fatty acids and has been shown in studies to improve body weight and composition. So not only are you gaining lean muscle, but you are improving your BMI.
Creatine: Elite Mass contains both creatine monohydrate and kre-alkalyn. These two forms of creatine have been shown to increase strength and boost pumps during workouts.
What We Like
Elite Mass utilizes a highly anabolic blend that contains 600 calories and 55 grams of protein. If you are taking Elite Mass while exercising regularly, you are going to experience plenty of muscle growth.
Consumer reviews tend to back Elite Mass up. Most consumers report experiencing huge growth and improved performance and recovery during and after workouts.
What We Don't Like
The biggest downside for consumers is that Elite Mass doesn't mix or taste very well, which is a common concern for protein shakes.
For us, what concerns us the most is the price. Retail price for a 6-pound tub of Elite Mass is around $75. You can find the same size tub for as little as $40 if you look around, but 6 pounds will only give you 18 servings. The biggest sized tub you will find is 10 pounds and sells for as little as $60.
Another issue we normally have with workout supplements, including Elite Mass is that it utilizes a proprietary blend. We know there are 15 grams of ingredients in one serving, but we can't tell how much of each ingredient is found inside.
Overall Impression
Overall, we like Elite Mass because it contains safe and effective ingredients. Even at the high price, we think it is worth trying this protein shake out.
But users beware, this supplement is not designed for everybody and it may turn out to be too powerful for some Average Joes just trying to gain a few pounds. The ingredients in Elite Mass will likely give you major anabolic results.