Elite Gourmet 6-Layer Protein Bar Review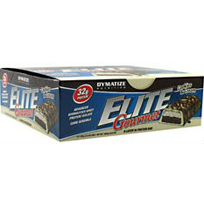 Its always nice when things are simplified and made convenient for us.
Take the example of protein bars. Rather than having to measure out the exact amount of protein powder that you'll need to mix with the exact amount of water or milk before consuming, such as you would have to do with Myotein or other protein powders, you can simply take the wrapping off of a bar and eat it.
Further, protein bars can travel with you wherever you go – whether that be the office, classroom or in the car.
One of the products that gives this convenience is Elite Gourmet 6-Layer Protein Bar. Created by the company Dymatize, we highly doubt that this snack is "gourmet."
Is it worth your time and money to give this protein bar a shot?
What Its Made Of
As for the Elite Gourmet 6-Layer Protein Bar, a quick glance at its ingredients list tells us that this snack packs quite the punch.
For a 3 oz. bar (also comes in a 1.5 oz size), you'll get 32 grams of protein and 21 grams of carbs with each serving you consume. In those 32 grams are four different forms of protein, including:
Hydrolyzed Whey Protein Isolate
Hydrolyzed Whey Protein Concentrate
Soy Protein Isolate
Milk Protein Isolate
By ingesting a combination of these four proteins, you can easily give your body the anabolic boost it needs to maintain a fit and healthy lifestyle.
There are 8 grams of sugar and 12 grams of total fat included in each serving of the Elite Gourmet 6-Layer Protein Bar. In other words, you better be expending energy and working out if you're planning on eating this snack frequently.
Otherwise, the Elite Gourmet 6-Layer Protein Bar acts as nothing more than a healthier dessert that will eventually go to your waist, hips, and thighs.
Taste Value
Now then, although nutritional value is the key to a quality protein bar, you also want to find something that tastes decent.
Along those lines, we didn't find any taste ratings associated with the Elite Gourmet 6-Layer Protein Bar, but a number of reviews did mention that this protein bar is one of the better tasting options available.
Also, if you like variety, there are four different flavors of the Elite Gourmet 6-Layer Protein Bar. They include Peanut Butter, Caramel Toffee Crunch, Fudge Brownie and Cookies and Creme.
The Cost Factor
One perk that draws consumers to protein bars is the fact that they are cheaper than your average protein supplement.
In terms of how much you'd have to fork over for the Elite Gourmet 6-Layer Protein Bar, a 12-piece box of 3 oz. bars costs $32.99 at manufacturer price, while the 6-piece box of 1.5 oz bars costs $11.94.
So you're looking at spending $2-$3 per bar if you purchase this protein bar from Dymatize's website. That being said, there are plenty of cheaper deals available online. We found one independent retailer that sold the 3 oz. bars for just $25.99, for example.
If you want to save little pocket money, we'd advise you to spend a little time surfing the web to find the best deal.
Closing Remark
In conclusion, although the Elite Gourmet 6-Layer Protein Bar may be a little pricey, it is a good value for a protein bar.
Nutritional and tasty, the Elite Gourmet 6-Layer Protein Bar is an above-average protein bar that can be used to refuel you throughout the day or as a recovery mechanism after a long and hard workout, though you may want to stick to Myotein or other protein shakes for the best benefits from supplements.