EFX Test Charge Review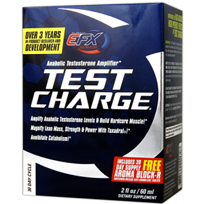 Sometimes protein just doesn't have everything you need to really pack on the muscles. It's like having all the materials but not having a factory to assemble them in.
That's why you need to make sure your body is the right environment to really use the muscle builders you feed it. A hormone that creates this atmosphere is testosterone.
We recently reviewed a testosterone boosting product called EFX Test Charge.
Its formula aims to increase levels of free testosterone so your body can build muscle, eliminate fat stores, and attain better lean mass composition. But we've seen T-boosters let us down before. Does EFX Test Charge really work?
About EFX Test Charge
EFX Test Charge contains a relatively new compound called Taxadrol. Though it's still early to say, many bodybuilders using Taxadrol have claimed that it works similar to Tribulus Terrestris, but has an even greater effect.
It's supposed to amplify amounts of bio-available testosterone, which helps muscles build and repair faster. It also gives muscles more power and output during workouts. EFX Test Charge also contains 20-hydroxy ecdysterone, a very anabolic, non-steroid compound that helps muscles form and grow. This is meant to give a reaction similar to those given by prohormones, but avoid the harmful and sometimes embarrassing side effects.
To compliment its testosterone boosting formula, EFX Test Charge includes aromatase blockers. Aromatase is the enzyme responsible for estrogen synthesis. By cutting down on estrogen, your boosted testosterone levels have free rein to do what they do best. By blocking the production of estrogen, you'll be able to preserve new muscle growth and protect yourself from Gyno.
We did notice that there are only 150 mg of the blend per serving. Since the ingredients are all part of a proprietary blend, it is hard to determine which ones are added in effective doses and whether this product will have enough to really boost you through your workouts and build better lean mass.
Is EFX Test Charge Safe?
Aromatase blockers have been tied to some side effects like osteoporosis, bone fractures, and some joint disorders.
Otherwise, there were no reported side effects other than those common with testosterone boosters.
The Skinny
Though early reports on Taxadrol have been positive, we still haven't seen any results to convince us that it's any better than Tribulus Terrestris. It's other ingredients are also quite cryptic.
EFX Test Charge does include some good ingredients, putting the new compound to the test will show whether it will have good effects in the long run. Most of the consumer reviews we found said that it was at least moderately effective. Nearly all saw an increase of aggression and motivation in the gym and overall higher energy.
This does speak well for the effectiveness of a testosterone booster, but it is hard to endorse an ingredient or blend that has not been clinically proven.
While we do like that it works to keep estrogen down and build up testosterone, we felt that it didn't provide really unique results even though it has a new formula.