EAS Premium Protein Powder Review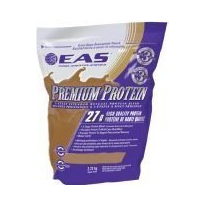 When a product uses the word "premium" inside its name, people naturally expect to see the best of the best inside the product.
Eventhough Myotein and other top products do not use this trigger word, they have been known for their high quality results and ingredients. For that reason, we were a little skeptical about EAS Premium Protein Powder.
Rather than believing a product is exceptional simply based on its name, we thought we would take a closer look at EAS Premium Protein Powder to see what it could really offer.
The Good
EAS Premium Protein Powder asserts that you will finally be able to effectively get all of the muscle building results that you want.
With EAS Premium Protein Powder, you can help muscles to recover after exercise, it mixes easily, it is suitable for those who are lactose intolerant, and it has 27g of high quality protein with a premium 3 stage blend.
EAS Premium Protein Powder has 27g of protein. This is an adequate, if a little high, amount of protein for any protein supplement, and it has 2 varied flavors. Many products have a higher amount of protein, but there is not much evidence to prove that these products are inherently better.
In fact, some research says that your body can't absorb much more than 30g of protein per sitting. This means that if you are ingesting much more protein than your body can absorb, the protein will go right through you and will, essentially, be wasted.
The Bad
After looking a little closer at the sources of protein for EAS Premium Protein Powder, we found that this product does not actually have the high quality protein that they talk about.
It may have 27g, but it is 27g of bottom of the barrel protein that will not absorb well, is more likely to actually cause stomach upset, and even if you aren't lactose intolerant, it could cause some of the same problems associated with lactose intolerance.
In addition, we found that the other ingredients used have too many calories and no real applications in most cases to muscle building.
This means that if you're trying to build lean muscle, using your fat stores for energy, you might not be interested in a product that has as many calories as EAS Premium Protein Powder. Unfortunately, it does not seem that EAS Premium Powder provides the best types of help for those that are looking to cut down on fat and build lean muscle mass.
The Skinny
Even though there are many competing products that have more protein and less calories, there is still definitely an audience that would appreciate a protein powder like EAS Premium Protein Powder.
If you're underweight and you want to build bulk as well as muscle, EAS Premium Protein Powder might be the right product for you.
On the other hand, if you are looking for a protein powder that is both low-calorie and high protein, you may consider Myotein or similar protein powders.