Diet Protein Review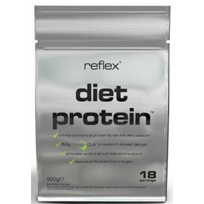 Protein shakes have been picking up popularity in the last few years all around the country.
Apparently they are gaining momentum outside of the U.S. as well. Diet Protein comes from the UK and claims to have the most advanced ingredients currently on the market.
Diet Protein is a protein shake made by Reflex Nutrition and is designed to help you "achieve a healthy, well defined and toned body," according to the official website. We decided to do our own research and compare what we found with what the makers claim.
About Diet Protein
Reflex Nutrition put together a nice official website to rave about Diet Protein and even include a short video on the top. On their site they claim that Diet Protein can "help curb appetite, boost antioxidant levels, promote healthy intestinal flora and provide essential amino acids."
The makers of Diet Protein focus on the use of Clarinol CLA as a "safe, natural, research proven diet and weight loss aid." CLA (Conjugated Linoleic Acid) comes from meat and dairy products and has been shown to decrease excess body fat and increase lean muscle.
Clarinol CLA claims to be a natural source of CLA. The makers of Clarinol even go so far as to say it is the highest quality CLA available.
Finally, the makers of Diet Protein claim it has a amazing taste and "mouthwatering flavors." They say that these flavors have been put to the test by a panel of taste testers. The best part is, they claim there is very little sugar in each serving.
Diet Protein Ingredients
Here is a list of active ingredients we found on the label of Diet Protein.
• Milk Protein Concentrate
• Whey Protein Concentrate and Isolate
• Clarinol CLA Powder
• Flavorings
• L-Carnitine
• L-Tartrate
• Green Tea Extract
It obvious, since it is a protein shake, for Diet Protein to contain protein concentrate. Most protein shakes contain at least whey protein concentrate. Protein isolate is just a different form of protein but essentially serves the same purpose, which is to provide the body with the protein synthesizing amino acids.
We talked a little bit already about Clarinol CLA as a weight loss and lean muscle gain ingredient. Clarinol CLA also contains vitamin E which acts as an antioxidant, cleaning out the system and improving the metabolism.
L-Carnitine and L-Tartrate have been suggested as weight loss and muscle building agents. However, there isn't sufficient evidence to prove this is the case. More research needs to be done.
After looking through the ingredient list, we found little source of sugar. Most of the flavoring ingredients are sugar substitute, making Diet protein low in sugar, which is good for those trying to watch their carbohydrate intake.
Conclusion
Diet Protein looks to be an effective and safe product. However, since it comes from the UK, you may be forking over quite a bit of money to get it shipped to the states. If you live anywhere near the UK, we recommend trying Diet Protein out, otherwise find something a little closer to home.