Designer Whey Protein Review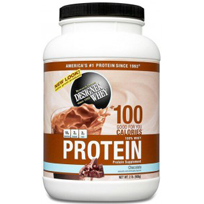 Unlike other protein powders that only offer straight proteins, Designer Whey Protein is meant to offer key ingredients like vitamins and minerals as well. This means that you can get a higher amount of nutrients that will keep you healthy and your body functioning properly.
Because this means that Designer Whey Protein is able to offer you many different nutrients that will promote your overall health without making it necessary for you to continue your search for the right protein supplement, we decided to look a little closer at this product to see if it could really be as effective as we'd hope it to be.
About Designer Whey Protein
This particular protein powder, Designer Whey Protein, comes from a long line of products that actually have more protein than the average, and they claim to support a healthy immune system while building healthy muscle tissue at the same time.
These products are more interested in boosting your health rather than pumping you full of proteins and amino acids. This is beneficial because some research shows that your body can only absorb so much protein per day. Most studies recommend using supplements with no more than about 26 grams of protein per serving at the most.
Any more could potentially create strain on your kidneys and liver because they cannot be absorbed by the body.
However, with Designer Whey Protein, you will also be able to get protein as well as all these other health-promoting ingredients. In fact, you'll get 97% better protein than whey, casein, egg whites, or soy.
Designer Whey Protein Ingredients
Designer Whey Protein has some good ingredients. As is obvious from the name, they have whey protein. In fact, they have some essential vitamins as well, so it seems that this is more than just a protein supplement.
Though there are several good aspects to the ingredient list, there are a couple features that are not as positive.
For example, the manufacturers only use 17.5g of protein. You need 24-26g of high quality protein to actually achieve better results. In addition to that, only the lowest possible quality of whey has been added to this product.
The manufacturers of Designer Whey Protein pack their formula with quite a few fats, carbs, and calories, forgetting all about the base whey protein that actually makes or breaks a formula like this. It will not absorb into the body, and that is ultimately the most important part. This makes it less likely that you will see any results.
Conclusion
Even though Designer Whey Protein might have more calories and lower quality protein than some might be looking for, there are still many people that would benefit from a protein powder like Designer Whey Protein.
For instance, if you are looking to add more mass as well as muscle tissue, you might need a product that has more than just protein. You will need one that will give you a raw source of energy like Designer Whey protein.
All in all, though, Designer Whey Protein may not be the most effective at helping to build muscle and increasing lifting power.