Designer Whey Protein Shake Review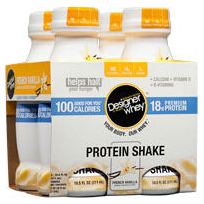 Most of our posts on this website are dedicated to reviews of protein powders. But if you're looking for an alternative to many of the protein powders available on the market today, you can always consider using a protein bar or ready-made protein shake.
Neither protein bars nor protein shakes will give you as much protein in each serving compared to a protein powder, but there are other advantages to these type of products such as their convenience, taste and nutritional value.
In this review, we'd like to focus our efforts on one protein shake in particular, called Designer Whey Protein Shake. Made by a proven commodity in Designer Whey, this product should have what it takes to help you achieve a protein-rich diet.
But does it come up short in any areas?
The Pros
To begin, all the advantages of a protein shake that we listed above, do indeed, coincide with the advantages of using Designer Whey Protein Shake.
As for this product's convenience, its easy-to-carry and lightweight bottle make it the perfect on-the-go snack that can be drank at anytime during the day – whether that be in the morning to kick start your day, in the afternoon while you're running errands or at work, or in the evening as a way to curb your cravings before going to bed.
In terms of its nutritional value, each serving/bottle of this product contains 18 grams of whey protein. Whey is recognized as a fast-acting and reliable form of protein and can be found in many protein-based supplements today.
Outside of protein, this product will also supplement your diet with 100 calories, 5 grams of carbs, 2 grams of fiber and a bevy of vitamins and minerals. Because of all this nutritional content, Designer Whey Protein Shake can serve as a great food choice and snack. Further, it can also be used as a pre- or post-workout supplement as a way to not only to enhance your anabolic growth gains but to sustain or help you recover from strenuous exercise as well.
The Problems
On the flip side, Designer Whey Protein Shake is far from being perfect. Although it does contain a nutritious blend of nutrients and is low in both sugar and fat, it does contain an ample amount of cholesterol and sodium.
Also, one 4-pack of this protein shake costs around $12, or $3 per bottle/serving. So if you're on a tight budget and looking to purchase cheap, this product's price tag may end up being a dilemma.
Lastly, the whey protein found in this product is not "hydrolyzed" or made more readily absorbent by any means. Now, whey is already quite fast-acting as we mentioned above, but it never hurts to enhance a product's effectiveness and efficiency.
Pick It or Pitch It?
In conclusion, although there are causes for concern with Designer Whey Protein Shake, they are not enough to override all the positives that this protein shake has going for it.
As such, we would still recommend the use of this product as long as you can afford its price tag and aren't on a cholesterol-low and/or sodium-low diet.