CytoSport Muscle Milk Review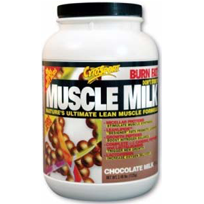 One of the most popular protein powders, Muscle Milk often attracts customers just based on the fact that it is something that people are familiar with.
Although there is some truth to the phrase that millions of people can't be wrong, there is also something to finding out which product is the most effective and can give you the benefits that you need through additional questioning, investigation, and a little old fashioned research.
So naturally I decided to do an in-depth Muscle Milk review to see if it really deserves all of its positive attention or not. I am determined to get to the bottom of this question: Does Muscle Milk work?
Does Muscle Milk Work?
Made by CytoSport, Muscle Milk is a popular formula for "Nature's ultimate lean muscle formula!" CytoSport uses a mix of whey proteins to help you to build muscle and redefine your body. Claiming it will promote fat burning, increased strength, and even faster recovery exercise, Muscle Milk manufacturers are adamant that this formula is more than just a muscle-building supplement.
Muscle Milk has a high amount of what appears to be high-quality whey protein. If used correctly, all of the claims of increased fat burn and muscle growth are actually true. Clinical studies have shown that when taking a protein supplement combined with a controlled-calorie diet, users have lost significantly more weight.
Most of this weight loss can be attributed to the fact that the body is stimulated to increase its production of lean muscle mass when you consume more protein. Because muscle takes 3 times the amount of calories to maintain than other tissues, it raises the amount of calories you burn each day, resulting in a larger amount of weight loss. But that's not all, protein even suppresses appetite, which results in fewer calories consumed. Research has also shown that you won't even need to increase your activity level much and you still will build muscle.
Additionally, if you are watching your calories, CytoSport makes Muscle Milk Light, a version of the original that is made with fewer calories.
Muscle Milk Side Effects
Unfortunately, CytoSport Muscle Milk doesn't actually have the correct amounts of protein to accomplish all of this. As well-intentioned as the manufacturers may be, you would have to multiply the recommended dosage to even begin to get the right effects. When you multiply servings, you unfortunately also multiply calories, meaning that it will add more fat to your body than it will actually burn off.
This means that if you are trying to get rid of fat tissue as well as build muscle mass, you might want to look for a protein powder other than CytoSport's Muscle Milk.
Finally, the Muscle Milk side-effects that you want to watch out for are diarrhea, abdominal cramps, and nausea. If you want to reduce the likelihood of these side-effects, increase Muscle Milk intake slowly.
Conclusion
Even though Muscle Milk might have more calories than I'dlike to see, this protein powder might still be a good choice if you are looking for a way to introduce more calories and protein into your diet. I suggest you take a look at our 5 Top Rated Protein Powders before you make a purchase.