CytoSport Monster Mass Review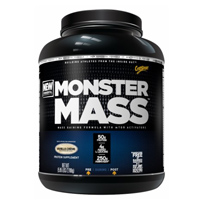 CytoSport Monster Mass is among the most popular mass gaining formulas available.
According to advertisements, Monster mass is a "powerful, yet easily digestible, mass-building protein complex."
Unlike other protein powders, it offers a whopping 50 grams protein per serving as well as plenty of vitamins, nutrients, and other ingredients to enhance performance.
But is Monster Mass the right choice for you?
What Sets Monster Mass Apart?
At first glance, Monster Mass looks like any other protein powder. It offers high protein concentrations to promote muscle growth as well as additional nutrients to keep you going strong.
So with that in mind, what makes Monster Mass different from other supplements?
Calories and Fat
If you're looking to pack on pounds of muscle via intense exercise, it can be difficult getting the calories, carbs, and protein you need.
Monster Mass contains over 600 calories per serving (the chocolate flavor is as much as 630 calories). That's more than enough to keep you feeling full throughout the day.
However, if you're not careful with your diet and exercise program, you may end up packing on pounds of fat rather than pounds of muscle. 600 calories should not be taken lightly, especially since 160 of those calories are from fat.
Furthermore, each serving contains 7 grams of sugar and only a small 9 grams of fiber.
50 Grams Protein
50 grams of protein per serving is definitely impressive compared to other protein powders. Of course, each serving is mixed with 18-20 fl. oz. of water, which is nearly double the amount of other supplements.
If we were to compare CytoSport Monster Mass to an 8-10 oz. serving of a similar supplement, Monster Mass would only contain 25 grams of protein per serving. This is still a large amount, but it doesn't completely outmatch its competitors.
What makes CytoSport Monster Mass different from other protein powders are the various protein sources used in its protein blend.
Monster Mass Sustained Released Threshold Controlled Protein Matrix includes the following:
• Whey Protein Concentrate – Derived from milk, whey protein concentrate contains anywhere from 30-90% protein and contains higher lactose levels than other types of whey.
• Whey Protein Isolate – A more filtered whey form, whey protein isolate offers up to 99% protein per serving and almost no lactose. It digests quickly to provide an immediate amino acid release.
• Calcium and Sodium Caseinate – Also derived from milk, sodium and calcium caseinate are slow-digesting protein forms, offering a sustained release of amino acids. Neither form, however, is as high quality as micellar casein.
• Milk Protein Isolate – Milk protein isolate contains a blend of 80% casein and 20% whey. It's naturally rich in amino acids and BCAAs for promoting muscle growth.
• Micellar Casein Micellar Casein is undenatured casein that exists in its natural globular structure. While in this state, its bioactivity remains intact, for improved effectiveness and performance.
• Whey Protein Hydrolysate. Whey protein hydrolysate is more filtered than whey protein isolate so it offers the highest quality whey protein available. Its filtration process enhances absorption and overall effectiveness.
• L-Glutamine Glutamine is not a protein, but it is essential for protein production. It is the most abundant free amino acid in the body and provides fuel to many different cells in the body. Studies show glutamine supplementation enhances glycogen levels and may reduce recovery time from exhaustive exercise. [1]
• Hydrolyzed Wheat Gluten (Glutamine Peptides) – Glutamine peptides are glutamine molecules bonded to other amino acids to increase their stability. It is often marketed for increasing growth and repair of muscle tissue after exercise. However, there is not enough research on glutamine peptides specifically to determine if they are effective for this use.
• L-leucine. Leucine is another amino acid promoted as a natural muscle builder. It is a branched chain amino acid (BCAA) which stimulates protein synthesis in skeletal muscle. [2]
• L-Isoleucine. Isoleucine is also a BCAA necessary for protein synthesis. Studies show isoleucine is a safe way to increase muscle protein synthesis. [3]
• L-Valine. Valine is a branched chain amino acid which stimulates and promotes muscle repair.
Lean Lipids
In addition to providing plenty of protein per serving, CytoSport Monster Mass offers lean lipids which may lower cholesterol levels and reduce blood pressure.
The Lean Lipids Plus contains:
• Sunflower and/or Safflower Oil – Sunflower oil is a natural source of unsaturated fat. It is commonly used to lower LD (bad) cholesterol as well as treat constipation. Similarly, safflower oil contains chemicals which may thin the blood and prevent clots, protecting the heart against damage.
• Medium Chain Triglycerides (MCTs) -These partially man-made fatty acids are easier to digest than other fatty acids. According to studies, MCTs increase energy expenditure and decrease adiposity. [4]
• Canola Oil – Generally recognized as safe, canola oil contains alpha-linolenic acid (ALA) which reduces blood pressure, cholesterol, and inflammation. WebMD experts say canola oil "can help adults meet the daily dietary recommendations for saturated and unsaturated fat." [5]
• Conjugated Linoleic Acid (CLA) – CLA is a heart-healthy fatty acid which reduces fat gain and maintains insulin sensitivity. [6]
Are There Any Risks?
Monster Mass does not contain caffeine or other harmful stimulants or ingredients. When used appropriately Monster Mass should be safe to use on a regular basis.
However, this doesn't mean Monster Mass is completely side effect free.
Taking Monster Mass in large doses may result in gastrointestinal discomfort, bloating, gas, and constipation.
Fortunately, most consumer reviews remain positive about CytoSport Monster Mass's Effects.
According to Medster14 at Bodybuilding.com:
"The one thing i loved about this supplement was the fact that you could chug it down and you wouldn't feel so bloated. . . Monster Mass is light and digest really easily. i put on some serious mass due to this supplement and i couldn't be any more happier. i've tried other supplements but nothing like monster mass that actually worked. i had a hard time hopping over that 160 pound mark and now im working towards the 170. Well satisfied, definitely going to be ordering again."
Allergy Warning
Monster Mass contains ingredients derived from milk and soy. Do not use Monster Mass if you are allergic to either of these ingredients.
Available Flavors
CytoSport Monster Mass is available in several different flavors:
• Banana Cream
• Cake Batter
• Chocolate
• Cookies and Cream
• Strawberries and Cream
• Vanilla
As with any other protein powder, consumer reviews regarding the flavors are fairly mixed. Some users love what Monster Mass has to offer, while others find it falls short of their expectations:
"If you've ever tasted Muscle Milk, you'd know that CytoSport knows how to make a protein powder taste pretty darn good. Monster Mass tastes great. I tried it with both water and skim milk, both stood up to my high taste standards! Mixability: 10/10 No problem here. I didn't try mixing with a spoon, but Monster Mass mixed well in a shaker (around 10-15 shakes) and blender. Both with skim milk and water." – Wishiwasdivin, BodyBuilding.com
"Worst tasting mass gainer ever! Can't believe I payed like $50 for this! Its so bad and dose absolutely nothing! Its just gross! Its like that moon sand you see on tv! So weird! So mad!" – ryclegman, BodyBuilding.com.
"Monster Mass I found to be way efective! It tastes good and actually works in the weight room. I felt as if I had more energy while lifting and my ability to lift alot of weight was climbing like crazy. i gained 12 pounds in 2 weeks! " Wyatt_Newman, GNC.com
"I usually use Monster Milk, and this is not the same. It's not nearly as good… taste wise. As for ingredients, it packs a punch, and I'm sure is a better replacement for the Monster Milk. Also, much cheaper per serving even though this requires 4 scoops per 18 oz of water, and the Milk was 2. Even still, the 2 scoops of Milk made a much thicker, tastier shake." – Redenius, amazon.com
While it's nice to see that Monster Mass branches out from the typical chocolate, strawberry, and vanilla flavors, the consumer reviews make me wonder if the flavor is a deal breaker.
If you've tried CystoSport Monster Mass, what do you think about the flavor? Did it make or break the formula for you? Is it worth trying?
How to Use CytoSport Monster Mass
Monster Mass can be taken at any time of the day as a meal replacement shake or just a pre/post workout shake.
For best results, combine 4 scoops Monster Mass with 18-20 fl. oz. of cold water or milk.
If you plan on using CytoSport Monster Mass as a pre workout shake, take it at least 45-60 minutes prior to your next session. If you want it to be a post workout shake, aim to consume it within 15-30 minutes after your next workout.
Product Pricing and Guarantee
CytoSport Monster Mass is easy to buy both online and in stores.
I shopped around for the best deals and found the following prices for a 5.95 lb. bottle:
• ALlStarHealth.com:$42.99
• BodyBuilding.com: $43.99
• Amazon.com: $43.99
• A1Supplements.com: $44.95
• GNC.com: $49.99
Although it doesn't offer the best price per serving, some users feel the results are worth the investment.
More About the Manufacturers
CytoSport offers a long line of protein-enhanced powders, shakes, and bars for boosting muscle growth and enhancing physical performance.
In 2008, the company reportedly earned $200 million, and received the Small Company of the Year Award at the 16th annual Beverage Forum.
According to the official website, CytoSport products are "made in complete compliance with Dietary Supplement Health and Education Act of 1994," and the manufacturers make a special effort to "ensure performance enhancing drugs never find their way into any CytoSport Product."
In the last 3 years, the Better Business Bureau has not received any complaints regarding CytoSport, which is pretty impressive to say the least.
Final Thoughts
CytoSport Monster Mass contains plenty of protein and other nutrients for boosting muscle growth and packing on pounds. When used appropriately, Monster Mass may help you give the mass you want without the negative side effects.
However, if you're not careful, Monster Mass may help you gain fat rather than muscle. Furthermore, the price is higher than many other mass gainers, and the consumer reviews are fairly mixed.
While Monster Mass may be a good choice for some, I'm not convinced it's ideal for everyone. Be sure to shop around and test various products to make sure Monster Mass is a good fit for your individual needs.
References
[1] Bowtell JL, Gelly K, Jackman ML, Patel A, Simeoni M, Rennie MJ. "Effect of oral glutamine on whole body carbohydrate storage during recovery from exhaustive exercise." J Appl Physiol. 1999 Jun;86(6):1770-7. Available from: http://www.ncbi.nlm.nih.gov/pubmed/10368336
[2] Joshua C. Anthony, Tracy Gautsch Anthony, Scot R. Kimball, Thomas C. Vary, and Leonard S. Jefferson. "Orally Administered Leucine Stimulates Protein Synthesis in Skeletal Muscle of Postabsorptive Rats in Association with Increased eIF4F Formation." J. Nutr. January 1, 2000 vol. 130 no. 2 139-145. Available from: http://jn.nutrition.org/content/130/2/139.short
[3] Olde Damink SW, Jalan R, Deutz NE, Dejong CH, Redhead DN, Hynd P, Hayes PC, Soeters PB. "Isoleucine infusion during "simulated" upper gastrointestinal bleeding improves liver and muscle protein synthesis in cirrhotic patients." Hepatology. 2007 Mar;45(3):560-8. Available from: http://www.ncbi.nlm.nih.gov/pubmed/17326149
[4] St-Onge MP, Ross R, Parsons WD, Jones PJ. "Medium-chain triglycerides increase energy expenditure and decrease adiposity in overweight men." Obes Res. 2003 Mar;11(3):395-402. Available from: http://www.ncbi.nlm.nih.gov/pubmed/12634436
[5] "Canola Oil Cooking Benefits." Food and Recipes. WebMD. Available from: http://www.webmd.com/food-recipes/canola-oil
[6] Pilar Parra, Andreu Palou, and Francisca Serra. "Moderate doses of conjugated linoleic acid reduce fat gain, maintain insulin sensitivity without impairing inflammatory adipose tissue status in mice fed a high-fat diet." Nutr Metab (Lond). 2010; 7: 5.Published online 2010 January 20. doi: 10.1186/1743-7075-7-5. Available from: http://www.ncbi.nlm.nih.gov/pmc/articles/PMC2831902/