CytoSport Complete Casein Review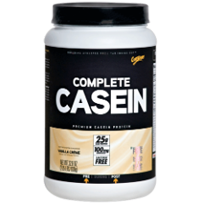 Are you a fan of Whey Protein Supplements but tired of searching for a supplement that provides sustained energy? If you're focus is endurance sports or you spend hours in the gym, you might want to consider adding Complete Casein to your program.
Unlike Whey products that provide instant energy, Casein is designed to continue feeding your muscles over a longer period of time and can really assist your body at bedtime, when it's been through a grueling workout hours before but is going to lack nutrients until morning.
This works similarly to Myotein and other top products, but does it deliver in the same way?
Whey Protein is a common source of protein. It is powder made from liquid left over when solids are drained from milk. It can provide you with strength and muscle mass, and is beneficial taken before, during or after training.

It is a gel formed by amino acids in the stomach. Because it breaks down slowly, it's a consistent source of energy.

CytoSport (inventors of Muscle Milk) developed Complete Casein as a supplement designed to keep your body fueled during times when you will be going extensive periods without food, such as nighttime or post-workout.
What is Complete Casein Made Of?
This product is the combination of three Casein sources – Micellar Casein, Calcium Caseinate and Sodium Caseinate.

Micellar Casein
A byproduct of milk, which dissolves into the blood and cells slowly, leading to lean muscle mass and energy.

Calcium Caseinate
Protein produced from casein in skim milk that supplies a sustained amount of amino acid release over time.

Sodium Caseinate
A modified protein from pure milk with a high amino acid content that acts as continuous fuel.

Complete Casein key ingredients contain 18 amino acids, and various minerals and salts including Potassium, Phosphorus and Magnesium. These acids are broken down partially through Aminogen, an enzyme compound that separates amino acids from whole protein.
Pros
Casein has many benefits and few negatives. It is both lactose and gluten free, although if you are intolerant to either substance CytoSport recommends checking with a physician before use.

This supplement is going to give you sustained energy from 25 grams of protein per serving for up to 4-6 hours. With a longer energy source you won't feel any "crashing."

Reviewers of Complete Casein give it the highest ranking in effectiveness and overall value. A 2.05 lb Jar of Complete Casein retails for $54.49 (30 servings) but deals are out there with some websites offering special rates of $30 per bottle.

If you are concerned about harmful substances or are planning to compete, you can rest assured that Complete Casein is free of banned substances and made in a NSF GMP for Sport registered facility.
Cons
While reviewers gave Complete Casein high marks in muscle enhancement and endurance, the one drawback of the product seemed to center around taste. Some reviewers loved the five flavors:

• Banana Cream
• Chocolate
• Cookies N' Crème
• Strawberries N'crème
• Vanilla Crème

However others couldn't stand the taste. A recommendation that arose several times was that this product does not mix quickly so in order to get the best taste possible, be sure to adequately mix, shake and stir.
Should You Try Complete Casein?
If you're looking for a great post-recovery product that has been tried and tested we can't see any reason not to add this one to your supplement list.

If the taste is a huge factor, you could look into Myotein or other products that are known for effectiveness and good taste.