CytoPlex Review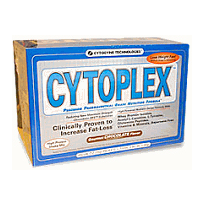 Coming from Cytodene Technologies, CytoPlex promises that you will finally be able to achieve fast and revolutionary weight loss results.
With CytoPlex, you will get a revolutionary new meal replacement formula that stimulates fast results without any drugs or stimulants. It can help you to stimulate rapid and dramatic weight loss and muscle building without the hassle.
They call it an advanced blend of revolutionary substrates clinically proven to show results. But does CytoPlex actually work?
About CytoPlex
CytoPlex has 41g of listed protein. This is extremely high to say the least, and it may even seem too good to be true in some ways. CytoPlex has various vitamins. But they don't really have the important ingredients. The highest amount you are going to get with protein that is worthwhile is about 26g, and that is rare.
When you go above that, you are getting proteins that your body cannot absorb or digest, and ultimately speaking, it will cause more harm than good. With CytoPlex, the simple fact is that you are getting protein that your body will make no use of, and they have mostly ingredients that have no relation to the topic at hand.
Conclusion
We would definitely recommend finding something other than CytoPlex to get the results that you are looking for. With CytoPlex, you get only low quality ingredients, and you will not actually get any results.
You are more likely to have stomach upset. So we would definitely recommend that you find something else that will actually come through.