Cyto Gainer Review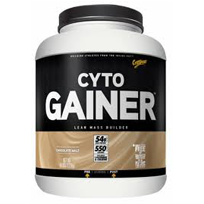 Coming from CytoSport Technologies, Cyto Gainer's manufacturers advertise that it is the #1 formula for your protein fulfillment needs. With Cyto Gainer, you will be able to gain weight fast with a lean muscle maximize.
The manufacturers advertise that Cyto Gainer will help you to get 54g of ultra high quality protein. Cyto Gainer is also meant to be a formula that is 97% and beneficial to your overall health.
Promises like these are fantastic, but they also come with nearly every new protein supplement. We wondered whether Cyto Gainer had the right ingredients to back up its statements of superiority.
About Cyto Gainer
Cyto Gainer does have 54g of protein, which is basically double the average and even double the necessary amounts. This protein is part of a Whey Protein Concentrate and/or Milk Protein Concentrate.
This mixture is a little confusing, especially since the manufacturer cannot guarantee if both blends are in the supplement or not.
Also, since these are protein concentrates, it is very likely that the quality of protein is not going to be the greatest.
If you were to get this amount of high quality protein, you would be paying quite a bit. They charge only $23.99, leading many savvy consumers to ask why.
How to Use Cyto Gainer
The manufacturers recommend mixing 4 scoops (150gm) in 16 oz of cold water to get about 600 calories, though they did mention that you could mix it in low fat milk to get 900 calories instead.
Consumer Reviews
Cyto Gainer comes in a variety of different flavors, which include Cookies 'N Creme, Vanilla Shake, and Banana Creme. Some consumer reviews we found mentioned that the mixture was a little thick, but that the taste was great.
However, most consumers were more concerned with how effective it was.
With no way of knowing how high the quality of the protein is, it is hard to determine whether this product would be effective for everyone, though some consumer found that they got results.
There were also no reported side effects.
Conclusion
Though there is a lot of protein added into Cyto Gainer, there is no way of telling whether that protein would be helpful for those that are trying to get the highest quality gains. Since the manufacturers add most of the protein in concentrates and blends, there is also no way of knowing how much high quality protein or low quality protein is inside the supplement.
A lot of skepticism rises about a product that does not list the types of proteins included, especially since there is not a money back guarantee. Of course, the lack of a guarantee may have to do with its low price. Few other supplements provide that much protein for that low price.
However, looking closely at the ingredient list, you can see that there are other lower quality ingredients. Consumers may have found that the taste was great because there are 5 grams of fat and 8 grams of sugar per serving. This is lower than other types of supplements, and definitely lower than many junk foods, but there are supplements available that do not have any fat or sugar added.