Creatine Plasma Review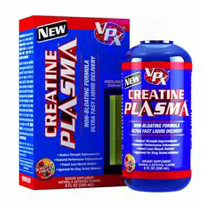 Chances are, you probably know someone who is currently using or has used creatine. Creatine is one of the most effective muscle-building and drug-testing approved supplements known to man, and it has been well documented over the years through research and study.
Along those lines, many studies have shown that while creatine is extremely effective, it can also be harmful to the body as well.
Still, many companies have continued to manufacture creatine-based supplements in an effort to boost profit margins.
In this review, we'll take a look at one particular creatine supplement, known as Creatine Plasma. More specifically, we'll breakdown the strengths and weaknesses associated with this product as we help you determine its overall quality.
Its Strengths
If you're looking for an edge at the gym or on the field, then Creatine Plasma seems more than capable of providing you with the energy and fuel you'll need to enhance your performance levels.
Equipped with 2,500 mg of creatine, 2 grams of carbs and 20 calories in each serving, this liquid-based creatine supplement is designed to enhance your ATP reserves and shorten your muscle recovery time.
Alongside a quality blend, Creatine Plasma is also relatively cheap compared to some of its counterparts. One 8 oz. bottle, which holds 24 servings of 10 ml, can be bought online for as cheap as $19.89.
Further, Creatine Plasma comes in two different flavors if you like a little variety, including Exotic Fruit and Grape.
Its Weaknesses
Now then, where does this product come up short? For starters, its not known if there is a 10 ml measuring spoon or cup included with your purchase of Creatine Plasma.
Its cap may serve this purpose, but again, this is just a guess. As such, it would be an obvious nuance for users to have to measure out their own servings.
Moving on, another downside to Creatine Plasma – and any creatine-based product at that – are the potential side effects related to its use. Studies have shown that creatine can accelerate dehydration and cause cramps.
As such, some medical experts have even denounced the use of creatine for muscle-building and as a performance enhancer. And while we're not going to go as far as denouncing its use, we do want to remind you to drink plenty of water if you're planning on purchasing Creatine Plasma.
Lastly, we found no evidence that a money-back guarantee is included with the purchase of Creatine Plasma. This obviously increases the monetary risk associated with this supplement.
What This All Means
Although it is a solid option that seems to be effective for many bodybuilders, there are too many cons to consider Creatine Plasma an exceptional product. If you're willing to take the bad with the good, then we don't see why we should dissuade anyone from purchasing Creatine Plasma – after all, consumer feedback has been fairly positive and if it worked for someone else, it might work for you too. It's affordable and can be purchased through various stores both online and at regular grocery stores such as Sears.
Then again, if you only want to settle for the best, you're going to have to look elsewhere and continue your search. There are more effective forms of creatine on the market that offer more benefits than risks, such as our top products. Shop around before you decide that Creatine Plasma is the perfect supplement for you.