Complete Whey Power Review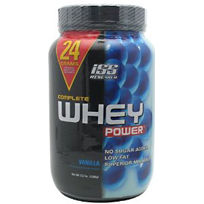 Created by ISS research, Complete Whey Power is the formula that will help you to achieve better benefits than ever before. With Complete Whey Power, you will get a formula that was designed to help you to achieve better results. It will help you to maximize muscle growth, and they say that Complete Whey Power will promote immune function, tissue repair, and insulin like growth for better results.
But the question as always is, does it work? Does Complete Whey Power actually have what it takes to help you to incorporate the pure proteins they describe for better muscle building results?
The Good
Complete Whey Power has some BCAA's listed, and they have 24g of listed protein. With Complete Whey Power, therefore, you do get the right idea.
The Bad
Complete Whey Power does have some good amino acids. But unfortunately, if you look at it, those amino acids are found in extremely small amounts, especially for the amounts of protein listed.
With this being said, the fact is that Complete Whey Power does not actually have high quality proteins at all, making their 24g of supposed protein more like 12g at best. And ultimately, they do not actually have any that would properly absorb itself into the digestive system.
The Skinny
Obviously, you would not see results with Complete Whey Power. It has the right ingredients, because ultimately a protein powder is made up of guess what, protein! But they don't actually have the quality of ingredients that we would hope for, and they definitely don't have the right amounts. So obviously, we would definitely say that you would be better suited using another option that would actually come through!