Complete Pro Power Review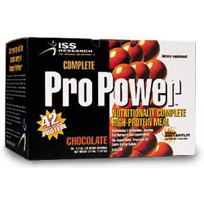 Giving you a complete package of the best all natural proteins and other ingredients for your success, Complete Pro Power will finally help you to get the best proprietary blend for ultimate results.
With Complete Pro Power, you will finally be able to get a perfect nutritionally complete high protein meal with high quality essential amino acids and BCAA's, and apparently it has various other ingredients and components for your greater body building results.
However, Complete Pro Power has been discontinued and finding it will take a bit of work. Do its benefits outweigh the nuisance of finding a third party vendor? And does it actually work?
We'll seek to help you find the answers to these questions in this review of Complete Pro Power.
About Complete Pro Power
Complete Pro Power has 42g of protein per serving, which is a rather substantial amount to say the least. They have several different types of protein listed from different sources such as milk, eggs, and soy, for example.
While these sources of protein are plentiful and easy to find, the simple fact is that Complete Pro Power does not have high quality protein. They have protein that will not absorb well at all, and ultimately speaking, the fact is that it will cause stomach upset among other side effects.
Another fact hard to ignore is that these forms of protein are easily obtainable by changing your diet. Drinking milk and eating eggs for breakfast, or substituting some dairy for soy products will give you the same protein content for less money and less hassle than finding the discontinues Complete Pro Power.
So obviously, Complete Pro Power does not have the right ingredients or anything else to help you to achieve better benefits. And with Complete Pro Power, you will get quite a few other preservatives and other ingredients that can cause side effects and nothing else.
How to Take Complete Pro Power
Even though finding Complete Pro Power will take some work, actually taking the supplement itself is pretty easy. Complete Pro Power is a protein shake, which can be mixed instantly to provide a low fat meal.
You just need one Complete Pro Power Shake 45 minutes before exercise, and manufacturers say you will be getting assistance that will decrease pre-workout fatigue and digestive power that will ultimately lead to muscle building.
Each shake comes with 290 calories, which carries a nutrition grade of "A" from the weight loss app Calorie Count.
Conclusion
We would not recommend using Complete Pro Power. It has high amounts of protein. But ultimately it doesn't matter, because your body will never properly absorb them!
With Complete Pro Power, you do not actually get any other helpful ingredients, and they are more likely to cause side effects than anything else. So we would definitely recommend checking out better options—especially ones that are currently on the market and won't involve the fuss of finding a seller.