Chain'd Out Review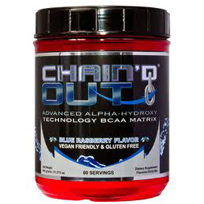 Chain'd Out has an emphasis on post-workout BCAA absorption.
Studies show that a diet high in BCAA's (directly without interference of protein synthesis) is a more balanced way of getting all the amino acids you need for proper assimilation into the body.
How It Works:
Chain'd Out works by combining BCAA's (branched chain amino acids) with Malic Acid which prevents loss (of BCAA's) during digestion. They added alanine to the blend which helps strengthen muscle fibers, preventing further damage during strenuous workouts.
Worth the Price?
Chain'd Out is a fairly expensive product, at $40 a bottle. There are a lot of filler ingredients in the product, which, while good in their own right-are not useful for the intention or goal of the product. Other products like X-tend (which I find insuperior due to their low amount of malic acid) have less filler ingredients overall.
Consumer Reviews
There were many positive reviews about Chain'd Out. One consumer summed up the sentiments of many with their report:
"This product is wonderful!
The ingredients are high-quality BCAAs. Does not contain glutamine which inhibits BCAA absorption.
It mixes readily–they seemed to have solved the Hydrophobic problem of most BCAAs in powder form.
IT IS DELICIOUS.
The powder form is more rapidly absorbed than the pill form.
This product is essential for anyone who is training and seeks to preserve muscle tissue, improve muscular definition, increase performance, and increase recovery time. "
Conclusion
So while post-workout supplements high in BCAA's are vital in maintaining and creating muscle mass, Chain'd Out might be an expensive option. There are numerous other products on the market that can boast high BCAA content without the high price. Just make sure it is combined with malic acid and you're golden.