Cellucor Super Sport Review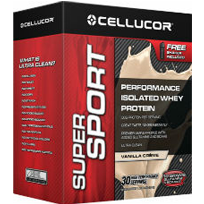 If you're looking for a high quality formula, Cellucor Super Sport has one that is "Ultra Clean", which means it should be free of everything except important nutrients and high-quality protein.
Let's compare Cellucor Super Sport to Myotein–the #1 protein powder–and see if its approach will pay off in terms of effectiveness, safety, and quality.
Cellucor Super Sport Ingredients
Cellucor Super Sport contains a large amount of protein (30 grams, 60% daily value) in each serving along with calcium, iron, carbohydrates, sodium, cholesterol, dietary fiber and only 1 gram of sugar and 130 calories per serving.
Other Ingredients are:
• Super Sport Protein and Amino Matrix (Whey Protein Isolate, Whey Protein Hydrolysate, L-Glutamine, L-Leucine, L-Isoleucine, and L-Valine)
• Natural and Artificial Flavor
• Soy Lecithin
• Sucralose
• Acesulfame Potassium
Cellucor Super Sport comes in two flavors: Milk Chocolate and Vanilla Creme. Users like the Milk Chocolate flavor best.
What's the Hype About Cellucor Super Sport?
Cellucor Super Sport's Ultra Clean Formula has…
No gluten
No yeast
No wheat
No corn
No starch
No preservatives
No added sugar
No added sodium
No hydrogenated oils
No trans fats
No artificial colors
No fillers
Is This a Good Formula?
Whey protein isolate and whey protein hydrolysate are two great types of protein, which you can also find in Myotein. Both proteins absorb and digest quickly to give your body energy and nutrients fast. The amino acids used in Cellucor Super Sport are also good for improving muscle growth and workout performance, and for preserving lean muscle.
With 30 grams of protein per serving, Cellucor Super Sport has a good dose (60% of Daily Value); but the ideal dose is around 25 grams (50% of Daily Value) because your body can process it more efficiently. Myotein has 26 grams.
Suggested Use
I recommend taking 1-2 scoops of Cellucor Super Sport a day. One scoop equals one serving. With two scoops a day, you'll get a little more than 100% of your Daily Value of protein. But at this rate, Cellucor Super Sport will only last for 2 weeks, and it's not cheap.
The best time to take Cellucor Super Sport is in the morning or 30 minutes after a workout. This is when the protein used in this blend does the most good. You can mix Cellucor Super Sport will water, juice, or milk.
Will Cellucor Super Sport Cause Side Effects?
Based on the ingredients used, I don't think Cellucor Super Sport will cause side effects. I couldn't find any reports of serious side effects in user reviews. However, it could take your body a few days to adjust to the 36.3 gram serving per scoop. There is a small chance that you could experience some initial bloating or stomach upset.
What Do Users Say?
Cellucor Super Sport gets great ratings from users. On Bodybuilding.com, it received 91 ratings with an average rating of 9.2 out of 10. Users say they like the taste, the results, and the mixability. On the downside, a lot of users say that Cellucor Super Sport is pricier and a poorer value than other protein powders.
What's the Cost?
You can buy 12 servings of Cellucor Super Sport or 30 servings. When you buy 30 servings on the official website, it costs $64. This is more than you'd pay on other sites, but the official site is the only place where you can get a 100% money back guarantee.
If you don't want a guarantee, you can find Cellucor Super Sport for $44.99 (30 servings) on Bodybuilding.com or $29.99 (12 servings) on GNC.com.
Is Cellucor Super Sport Worth Trying?
If you want a "clean" protein powder, Cellucor Super Sport definitely has this going for it. It also has two high-quality proteins and important amino acids. Cellucor Super Sport gets good ratings from users and you can buy it for an affordable price.
If you want a good, basic protein powder, Cellucor Super Sport could be a good choice. However, there are higher-quality options out there. For example, Myotein has 6 clinically proven, high-quality types of protein. And it actually costs less than Cellucor Super Sport! I recommend looking at your other options before settling on Cellucor Super Sport.
What do you think of Cellucor Super Sport? Please feel free to share your comments and experiences below.