Cellucor COR-Performance Whey Review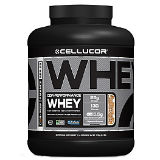 "The COR-Performance series is designed to satisfy even the most discriminating sports nutrition customers with great formulas, great flavors, and great prices," declares the Cellucor official website.
COR-Performance Whey is the newest Cellucor protein powder. It's made with pure protein and "the best flavors on the market." Let's research the claims to see if COR-Performance Whey is worth trying.
What's in COR-Performance Whey?
The COR-Performance Whey Protein Matrix has 2 protein types. The remaining ingredients are flavors, sweeteners, protein-stabilizers, and digestive enzymes.
Whey protein isolate – No other ingredient provides more pure protein than whey protein isolate. It's highly-filtered, which strips out cholesterol, fat, lactose, and carbohydrates. Most whey protein isolate types provide up to 90% protein. In one study, people who took whey protein isolate built more muscle, had greater strength, and lost fat.[1] Whey protein isolate digests and absorbs quickly.
Whey protein concentrate – This protein is not as filtered as whey protein isolate. But that leaves it with more bioactive compounds. Whey protein concentrate digests and absorbs rapidly, too. This is important because the body can only digest so much protein at a time. The easier protein digests, the more your body can handle.
Protease – The main enzyme involved in protein digestion is protease. It breaks apart the peptide bonds which link amino acids together. As a result, protein breaks down and becomes easier to digest. Research proves protease enzymes significantly enhance protein digestion and absorption.[2]
Lactase – Lactose is a sugar found in whey. It's very difficult to digest without lactase. In fact, lactase enhances lactose digestion so much, it's added to milk products to make them lactose-free.
The Formula Pros
• High-quality, fast-absorbing proteins
• Good protein dosage (25 grams per serving) – not too much and not too little
• Digestive enzymes enhance protein absorption and make COR-Performance Whey more effective
• Low in calories, fat, cholesterol, sodium, and carbohydrates
The Formula Cons
• Cellucor claims COR-Performance Whey is gluten-free, but it's manufactured on equipment that also processes wheat products
The Flavors and Mixability
COR-Performance Whey comes in 6 flavors, which users say are delicious. Here they are in order of users' favorite to least favorite:
• Molten Chocolate
• Cinnamon Swirl
• Peanut Butter Marshmallow
• Whipped Vanilla
• Cookies and Cream
• Strawberry Milkshake
A few users said the flavor was too strong or too weak. This is easily solved by using more or less powder or liquid.
The powder mixes well in water and even better in milk. It dissolves quickly and completely. There are no chunks; especially if you add the powder and then the liquid.
Do Users Like COR-Performance Whey?
More than 165 users rated COR-Performance Whey on Bodybuilding.com. The average rating was 9.3 out of 10.
Users said the powder has a good protein profile. It works well when taken in the morning or after a workout. They like the quality, the flavors, and the mixability. Several users said COR-Performance Whey is the best protein powder they've tried.
Only 5 people gave poor ratings. A few said the protein powder is too thick and one said it doesn't mix well. If it's too thick, add more liquid. I don't know what to suggest for mixability because everyone else said COR-Performance Whey mixes great.
Where to Buy COR-Performance Whey
COR-Performance Whey is sold by GNC, The Vitamin Shoppe, and Lucky Vitamin. I don't know if the in-store prices are more or less than those listed online. The advantage to buying from a store is you don't have to pay for shipping. Here are the prices for buying this protein powder online:
LuckyVitamin.com
• 2 lbs. – $25.99
• 4 lbs. – $44.99
eBay.com
• 2 lbs. – As low as $29.95
• 4 lbs. – As low as $59.49
Cellucor.com
• 2 lbs. – $39.99
• 4 lbs. – $69.99
Does Cellucor Offer a Guarantee?
"If you are not 100% satisfied with your purchase, mail your return back for a full refund," says Cellucor.com. Although shipping fees aren't refunded, you get a full refund for opened and unopened containers.
The guarantee lasts 30 days, which isn't much time when you take shipping into consideration.
Cellucor only accepts products bought from the official website. Every Cellucor product comes with a barcode sticker. This must still be attached or you won't receive a refund. Mail returns to this address:
Attn: Cellucor Returns Department, 715 N Main St., Bryan, TX 77803.
Conclusion
As promised, COR-Performance Whey contains a great formula, great flavors, and a great price.
Whey protein isolate is the highest-quality protein available. Research shows it builds muscle and burns fat. But it's also good for suppressing appetite and speeding recovery. Both proteins in COR-Performance Whey absorb and digest quickly. But digestive enzymes are still essential, so I'm glad Cellucor included some.
All but 4 users love how good COR-Performance Whey tastes and how well it mixes. They consistently give the protein powder high ratings. I didn't read any reviews that mentioned ineffectiveness, side effects, or poor customer service.
Most users said COR-Performance Whey is a good value. It has high-quality protein, a good dosage, and an affordable price. I recommend buying COR-Performance Whey.
References
[1] Cribb, PJ, AD Williams, et al. "The effect of whey isolate and resistance training on strength, body composition, and plasma glutamine." International Journal of Sport Nutrition and Exercise Metabolism. 2006.16 (5): 494-509.
[2] Oben, J, SC Kothari, and ML Anderson. "An open label study to determine the effects of an oral proteolytic enzyme system on whey protein concentrate metabolism in healthy males." Journal of the International Society of Sports Nutrition. 5.10 (2008).